Agility in daily operations using the Power Platform
https://xcelpros.com/wp-content/uploads/2020/08/Agile-Operations.jpg
1500
800
Xcelpros Team
https://secure.gravatar.com/avatar/96617efae43f5c5d35c22f96f521473e?s=96&d=mm&r=g
Introduction
COVID-19 is testing the supply chain and manufacturing operations around the world. Companies have their hands full dealing with workers who have become ill or those who are required to be home due to lack of raw materials delivery and limited work hours. Now more than ever, businesses are evaluating how to improve efficiency, lower cost, and increase operational performance. The immediate question on everyone's mind is, "how are we coming out of this crisis"?
94%
of Fortune 1000 companies are seeing supply chain disruptions from COVID-19
Fortune , February 21 2020
While employees' safety is a top priority during this pandemic, mitigating the impact on the day-to-day operations is top of mind. CEOs and CFOs are facing the unprecedented challenge of pivoting product demands and preserving cash flow that has grown over the last few weeks. Implementing a do more with less attitude while gaining a few quick wins in the process can build the momentum needed to keep companies moving forward.
FIGURE 1 The Ecosystem of an Integrated Supply Chain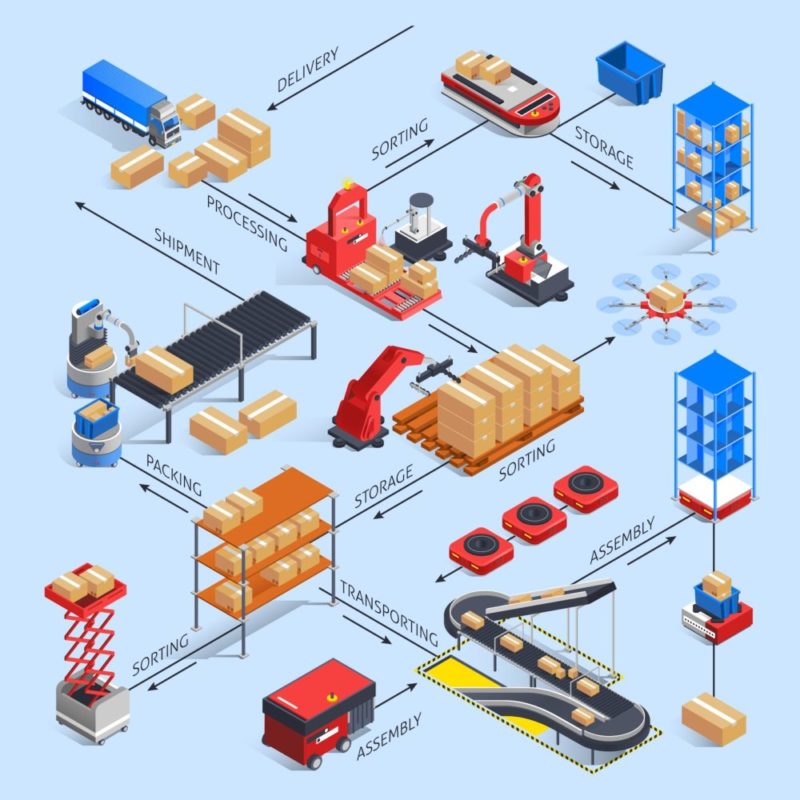 Pivoting the Plan
The role of the CIO is critical in risk mitigation strategies in numerous ways. First, drafting a plan to determine how the COVID crisis is affecting the infrastructure short term and keeping operations running as smoothly as possible but also long term as projects and roadmap budgets will most definitely be affected. We've seen in the last 30 days, moving as many employees to remote work without disruption has been at the center of many organizations. Tools like Microsoft Teams and Skype have allowed organizations to continue communication, and their integration with Office 365 is allowing familiar tools to ease the transition.
Keeping the Lines Open
Not all employees of production and distribution companies are working from home. Due to increased demand for products, thousands of workers have been deemed essential, many having to operate on a 24/7 model. These facilities are finding themselves adding shifts, ramping up capacity, and working to keep warehouses stocked with both raw materials and finished products. Service providers for equipment maintenance and repair are another industry with workers ensuring that machines stay online and working correctly.
FIGURE 2 Microsoft Power Platform: An Integrated Solution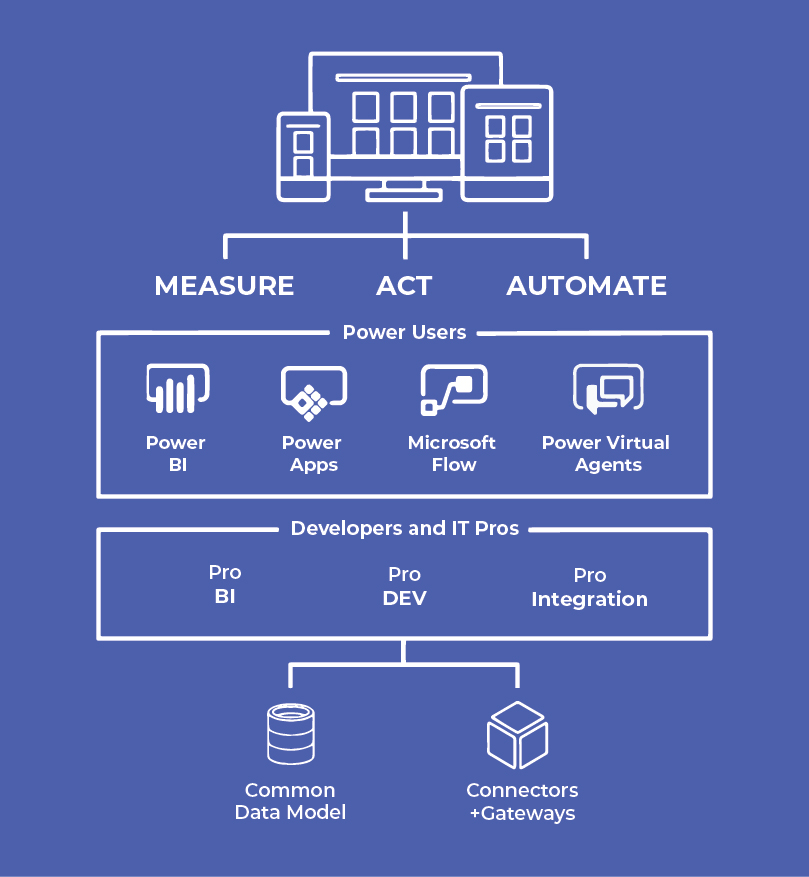 It is during this time that having tools in place can help to expedite communication between facilities and these providers. The Microsoft Power Platform is a creative solution; this low code-no-code platform can be implemented in a matter of hours to generate a quick win. A no-code solution can be valuable when needing to make rapid or immediate decisions while maintaining critical operations.
65%
of all App Development will be low code by 2024 as estimated
Source: Gartner
By using PowerApps, workers can get access and insights into machines that may be headed for trouble before they experience downtime, or even be alerted to scheduled downtime for cleaning to comply with the CDC's Expected Business Response Plan. Power Apps can connect to hundreds of business systems and databases, making it easy to connect workers with the existing processes and data are easily integrated with Microsoft Outlook to keep those within the supply chain informed.
Increased development agility
Automate and simplify repetitive and time-consuming processes to launch faster and reduce errors across your organization.
01
Speed and savings
Reduce time & cost building web and mobile applications, enabling you to get through your development backlog.
02
Do less but achieve more
Fully managed, with preset data models and common entities, out of the box business logic and rules, that is fully customizable to your business needs.
03
Meeting the Demand
Using forecast planning during normal operations helps to predict the flow of material through the supply chain. However, in times of crisis, using a demand planning model is essential. By conducting a daily "What-if analysis," scenario planning, and Sales and Operations Planning (S&OP) using a Consumption Driven Model along with industry and customer knowledge, companies mitigate as much risk as possible. As we have seen in the past few weeks, carmakers like Tesla, Ford, and General Motors have been able to quickly adjust their production lines from automotive parts to assist with the shortage of ventilator parts.
Executives are continually evaluating sales and budget plans. Power Automate can help to reduce the number of tedious manual processes when decisions cannot wait for lots of analysis and provide a creative, cost-effective strategy for businesses to connect their existing legacy systems. A perfect example would be the workflows for approvals that are activated in a matter of hours instead of days. As the workforce is becoming a hybrid of remote and on-site team members, this can reduce the time spent tracking down approvals and keep things moving. For managers who are used to adjusting production lines and need to approve adjustments on the fly, all while staying compliant, getting the right notifications is critical. Using Power Bi for current and future analysis will also lend a hand when developing future emergency response plans.
Staying Ahead
In addition to machine maintenance, keeping facilities clean and informed based on CDC guidelines is critical to keep operations running and employees safe. The Power Platform has deployed several new tools ahead of the April release.
Crisis Communication – It is a solution that combines Microsoft Power Apps, Microsoft Power Automate, Microsoft Teams, and SharePoint to coordinate information sharing and team collaboration in response to evolving conditions. Employees can report work status and make requests, and admins can use the app to push updates and news including RSS feeds from the World Health Organization (WHO), The Centers for Disease Control and Prevention (CDC) or local authorities, or emergency contacts to different locations—all accessible on the web, mobile, or in Teams.
Power Virtual Agents Crisis Response Bot – the Power Virtual Agents team has released instructions to build a Virtual Agent Crisis Response FAQ Bot that helps people get to the information they need quickly in a chat interface you can embed on your company website.
Power Apps Drives Business Transformation
The recent study conducted by Forrester Consulting shows how businesses reduced development costs and increased overall efficiency using Power Apps. Results are for a composite organization based on interviewed customers.
$70% Reduction in app development costs
3.2hrsLine-of-business employee productivity improvement per week
Extraordinary Challenge
The COVID-19 crisis may have unknown long term implications, so taking the time to plan is essential. Understand that putting out today's fires is the most critical task, re-evaluating the existing roadmap and gaining a few quick wins in the process will help relieve some of the anxiety. Over the next few weeks, as we hope to get back to a more stabilized business environment, having tools in place to watch markets and consumer behavior and report that data back to your teams will help companies to move forward with more confidence. Tools like the Microsoft Power Platform will allow the runway of significant gains with little cost to get started.
We are all grateful for those companies that are quick to rise to the call to keep America moving forward. We extend a 'Thank You' to the countless pharmaceutical, chemical, and distribution companies who are working despite risks to keep us supplied with the essentials.
Reach out to us for your company's Digital transformation
About XcelPros
XcelPros is a Chicago-based company delivering transformation through technology. We offer business and technology solutions with deep industry experience in Chemical, Pharma, Life Sciences (including Medical Devices, Bio-Medical & Biotech), Insurance, Discrete Manufacturing, Process Manufacturing, Distribution and Food & Beverage.
XcelPros is a Microsoft Gold Partner, Direct Cloud Solutions Provider (CSP) and a Systems Integrator (SI) offering software licensing, implementation and consulting services for Microsoft Dynamics 365, CRM, Microsoft Dynamics AX, Business Intelligence & Analytics (Power BI), SharePoint, Office 365 and Azure (Cloud, IOT, Microsoft Flow amongst many others).
Our mission is to provide integrated technology solutions that amplify impact and empower our customer's businesses. We believe technology is the key enabler of exponential growth for us and our customers.
Contact XcelPros today to transform your business.
Call us toll-free – 1.855.411.0585 (or) visit www.xcelpros.com