How Strong is Your Supply Chain?
Over the past two decades, many manufacturing operations have moved offshore to maintain lower operational costs across numerous industries. No one could have guessed that there would be a pandemic at the start of the year that would bring a large number of businesses and operations around the world to a grinding halt. The past few months highlighted gaps in various supply chains across the globe. Many companies that had pivoted operations found themselves scrambling to get their hands on materials needed to meet rapidly rising demands. Several factors would tie to the lack of availability, including any number of breakdowns in third-party suppliers' supply chain, whether domestic or international.
For critical industries, not getting the materials they need can be catastrophic, but what is a vital sector?
What is a Critical Industry?
In 2001 immediately following the 9/11 attack on the United States, the USA Patriot Act was created to identify critical industry infrastructure and update essential workers' designation. According to the USA Patriot Act, 'Critical infrastructure' is defined as "systems and assets, whether physical or virtual, so vital to the United States that the incapacity or destruction of such systems and assets would have a debilitating impact on security, national economic security, national public health or safety, or any combination of those matters" (USA Patriot Act of 2001 (42 U.S.C. §5195c(e)).
Critical Infrastructure is identified as functions that are essential for the functioning of a society and economy. Since then, the National Infrastructure Protection Plan (NIPP) identifies Critical Infrastructure Industries according to a list of 16 specific industries identified as essential to keep our country and economy moving.
Industries that are part of the list:
Chemical
Commercial facilities
Communications
Critical manufacturing
Dams
Defense industrial bases
Emergency services
Energy
Financial services
Food and agriculture
Government facilities
Healthcare and public health
Information technology
Nuclear reactors, materials, waste
Transportation systems
Water and wastewater systems
Understanding your Supply Chain
A robust supply chain is the foundation of any successful company, primarily when critical operations rely on getting raw materials in the door and finished products to customers on time. Without added cost, it is essential in the day-to-day operations. The impact of COVID-19 on supply chains around the world has taught us of a few things these past few months:
Raw material supplier relationships are essential.
There are massive constraints that exist within our transportation industry.
Security within the supply chain can cause unexpected challenges.
According to the Information and Communications Technology's (ICT) Supply Chain Risk Management program, it is essential to know your immediate supply chain and an extended supply chain that may not have direct access to third party suppliers like their customer base. It's common for products that were once in excess supply to be depleted as multiple sources procure the same item. This is where a good supplier relationship could mean the difference between getting access to a product or having to wait until more materials are produced.
Another aspect to consider is that while our guard may be down as we concentrate on keeping operations moving, things like data breaches are rising. According to the Risk Ledger Report, third-party app developers, payment processors, and remote worker infrastructure are among the top security threats currently on the radar of organizations.
Figure: 1Functions enabling modern supply chain management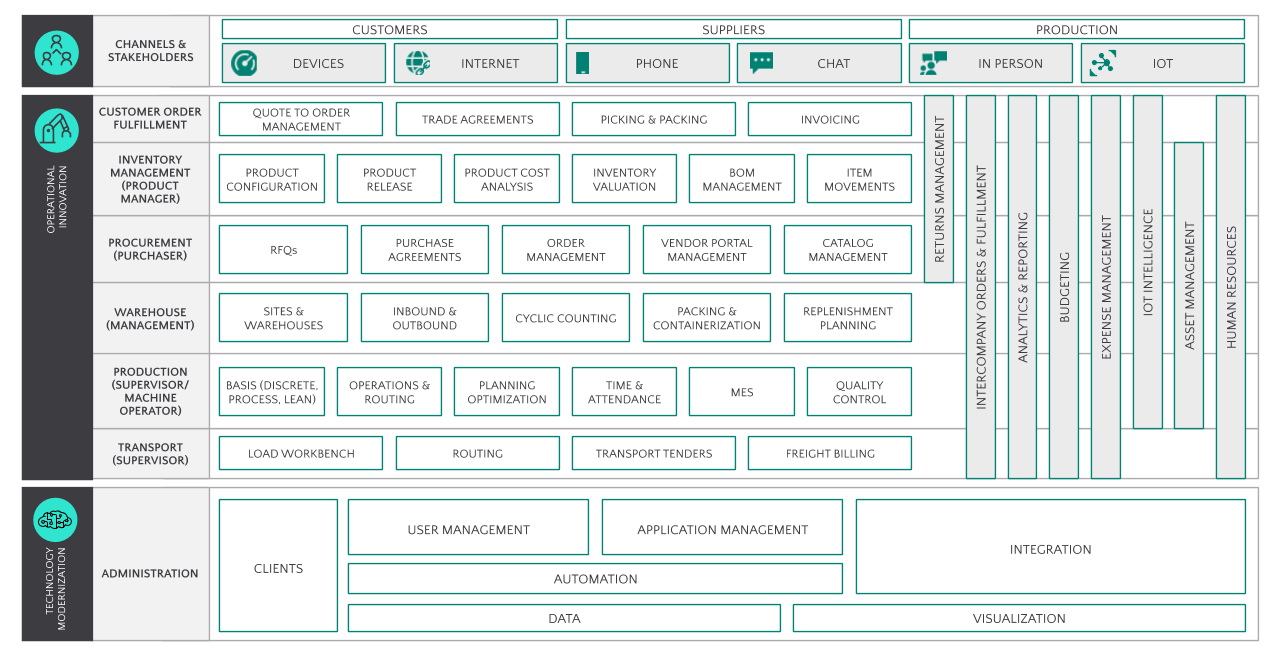 There are Ways to Stay Ahead
Thankfully, there are solutions out there to help companies stay competitive. The latest version of Microsoft Dynamics 365 for Supply Chain Management, introduced in October of 2019, includes several features for building strong supplier relationships and minimizing risks.
Some of the more powerful features designed to help include
A Role-based Vendor Collaboration Portal
Members of the procurement team can post and respond to Requests for Quotations(RFQ) and edit necessary company information. Companies and suppliers have access also to confirm, maintain, reject, and accept purchase orders.
Purchase Inquiry Options
Available outside of the portal as an alternative to the RFQ process when immediate material pricing and delivery need to be met with your existing supply base.
Vendor Performance Analysis
Includes a dashboard to real-time Spend Analysis and Vendor Performance insights into on-time delivery.
Most recently, as an add-on to the already robust Dynamics 365 Supply Chain Management platform, a public view into the new Dynamics 365 Manufacturing Accelerator has been made available (May 14, 2020). The Manufacturing Accelerator is a Power App designed by Microsoft to offer an enhanced Supplier Relationship Management experience, running natively with Dynamics 365 Supply Chain Management.
The primary features include processes to:
Qualify a new supplier
Onboard a supplier for data integration (API)
Manage and track Supplier Relationship Health Data
While the accelerator was created before the current pandemic, it's turning out to be a great asset to procurement teams looking to strengthen their supplier sourcing capabilities.
Final Thoughts
It's important to understand, especially after witnessing the impact COVID-19 has had on organizations around the world, that the priority of most companies is the safety of their employees, while at the same time ensuring they are getting products into the hands of their customers. Having a robust and secure platform like Microsoft Dynamics 365 Supply Chain Management helps make this a reality. The bonus of native integrations with Microsoft 365 and the security of the Microsoft ecosystem add significant value.
Get Free Consultation For all Your Business Needs
About XcelPros
XcelPros is a Chicago-based company delivering transformation through technology. We offer business and technology solutions with deep industry experience in Chemical, Pharma, Life Sciences (including Medical Devices, Bio-Medical & Biotech), Insurance, Discrete Manufacturing, Process Manufacturing, Distribution and Food & Beverage.
XcelPros is a Microsoft Gold Partner, Direct Cloud Solutions Provider (CSP) and a Systems Integrator (SI) offering software licensing, implementation and consulting services for Microsoft Dynamics 365, CRM, Microsoft Dynamics AX, Business Intelligence & Analytics (Power BI), SharePoint, Office 365 and Azure (Cloud, IOT, Microsoft Flow amongst many others).
Our mission is to provide integrated technology solutions that amplify impact and empower our customer's businesses. We believe technology is the key enabler of exponential growth for us and our customers.
Contact XcelPros today to transform your business.
Call us toll-free – 1.855.411.0585 (or) visit www.xcelpros.com