Introduction
The purchasing process of any organization has always focused on simplifying the procurement of materials as well as services, and boost supply chain efficiency. In today's digital world, it has become more essential for companies to formulate a comprehensive strategy for running operations faster and smoother. Is your workforce still operating on manual and archaic systems to manage purchase orders? An antiquated process not only leads to mismanagement and user errors but also hurts your bottom line.
You need to take a technology-driven approach that focuses on automating the entire supply chain from cradle to grave instead of concentrating only on warehouse operations and inventory control. Automating and streamlining your purchase orders with real-time supplier collaboration saves time and cost while simultaneously increasing efficiency as well as profitability.
Figure 1 Integrating the Purchase Order Process

Your employees might be the only common link between your business systems and the suite of tools they use every day – be it for email, spreadsheet, or word processing . Using multiple tools that are disjointed very quickly leads to lack of visibility. Connected business solutions from Microsoft help streamline your internal processes and pull needed information together so that your people don't have to.
43%
of companies agreed that there are loopholes in their PO practices.
64%
of organizations reported having plans for addressing purchase order management inefficiencies in the near future.
Procurement and the Life Cycle of Purchase Order (POs)
The crux of Procurement involves negotiating terms, acquiring goods or services, from a list of approved vendors, and assessing supplier evaluation based on past transactions. The end-to-end activity starts from choosing the right vendors, establishing payment terms, then moving on to sending purchase orders, managing receipt of purchased goods, and processing invoices/ payments.
The Purchase order lifecycle, also referred to as the "Purchase to Pay" or "P2P" cycle, comprises of six core steps:
1.Vendor Selection: After receiving quotations from suppliers, the Buyer works towards shortlisting the best ones that meet the business requirement and budget. Simultaneously, the procurement team also conducts a detailed verification of the supplier taking input from all stakeholders to reach on a unified decision.
2.Negotiation & PO Dispatch: A contract negotiation takes place with the selected supplier in terms of the delivery timeline, set an On time in full (OTIF) KPI, establish a payment process, agree on quality standards, dispute resolutions, confidentiality, risks, change in requirements, and other miscellaneous details. The supplier and buyer sign contracts for a single or group of purchases, by locking in the price and other terms.
3.Purchase Order Creation: Once the procurement team receives approval on purchase requests, they create a single line or multiline purchase order containing product details, pricing, terms of the delivery, freight methods, and other relevant purchase details. For multiple line items, depending on if the system accommodates it or not, the buyer may create separate purchase orders for each item.
Figure 2 A Purchase Order Lifecycle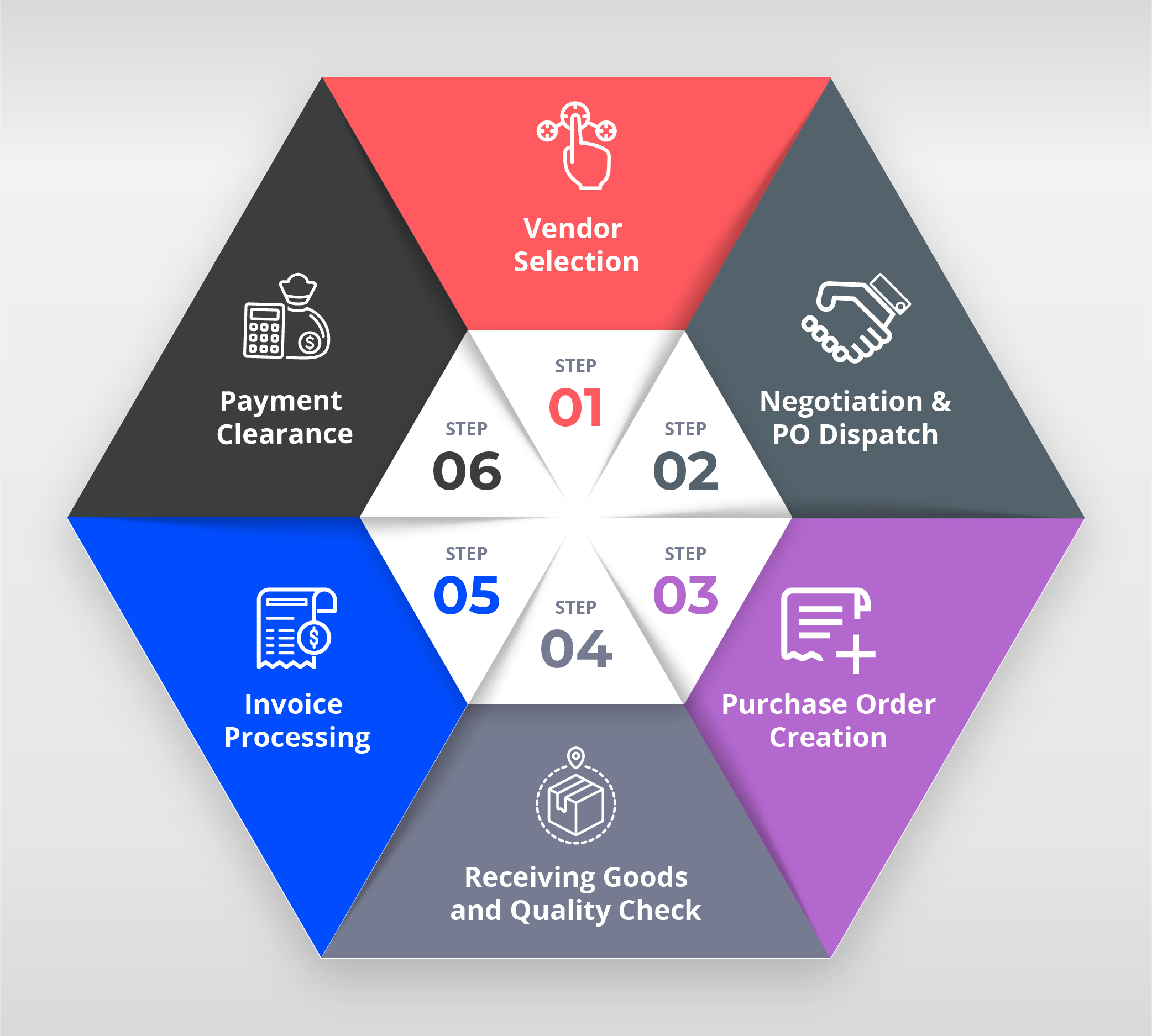 4.Receiving goods on a PO and Quality check: The vendor sends a 'lot/ batch' of material per the instructions and agreed upon terms on the PO. On receiving the product, the buyer conducts a standard quality check, validates the PO and packing slip. The receiving clerk verifies the items received through quantity counts, first-level quality check for damages, and accuracy. In case of a dispute, relevant parties are notified with details. Once done, the receiver records the receiving information accurately into the inventory management system.
5.Invoice processing on a PO for payment: The supplier sends the invoice to the buyer or the Accounts payable department. The AP clerk enters the invoice, verifies details via a 2-way or 3-way match against the PO, and posts the PO-invoice. The transaction creates an open invoice against the supplier in the system, which would now show up on an aging report.
6.Processing the payment for the purchase: As the due date approaches, the AP clerk prepares a payment proposal that goes through a workflow to be approved depending on the invoice amounts, prints checks or sends electronic payments, and finally, posts the payment to clear out the open invoice.
Due to all these elaborate steps, being detail oriented becomes one of the primary requirements; thus making automation plays a key role in reducing human error rate and improving the overall accuracy of the purchase-to-pay lifecycle.
Small retailers often don't use purchase orders as they rely on strong relationships with only a limited number of vendors. But let's not ignore the fact that verbal deals can at any time be breached from either side and without the knowledge of the other party leading to unnecessary legal battles for all parties involved. Automating the purchase process helps to keep everything documented and safeguards your company from potential losses.
Underlying Reasons for a Purchase Order Failure
There are plenty of reasons, including human error or process failure, why a purchase order system can fail. Some of the reasons are listed below:
Authorization limitation

While only the authorized person should sign off the purchase order. Situations may arise when the person doesn't receive the PO or even forgets to complete the sign-off. In such cases, the accounts the department may refuse to accept the invoice.

Wrong codes and supplier names

The person-in-charge assigned to the role of completing the purchase may lack the details such as full supplier name, business code, and other details. Filling in the form with half details or wrong details leads to a breakdown, waste of time, and loss of money.

Non-completion of all essential columns and boxes

In manual handling, no system reminds the user to fill in every mandatory piece of data. Missing data in one field can have a domino effect on other areas.

Failure to use the preferred suppliers' list

In an automated PO management system, a preferred supplier list is given preference and forces the Buyer to not deviate from the list. Choosing suppliers outside the approved list, could result in providing an explanation to the financial department/ management, even if the decision is for the benefit of the organization. Approvals should ideally trigger this step. With a manual process, it is challenging to monitor approved supplier checks.

Delay in delivering goods/services

One of the apparent problems faced in manual Purchase order processing is enhanced visibility in delays of goods/ services delivery. Typically, a high volume of orders or errors will often result in the supply system slowing down, or worse completely loose track of shipments from the vendor.
Automation as the Solution
While digitizing purchase orders typically involves a more significant initial investment, it is truly a long-term solution that results in a tangible ROI. The sooner you upgrade to automated e-invoicing solutions, the faster your operations will see the benefits. Producing electronic POs in your ERP removes paper but doesn't put an end to manual processes, as buyers still need to extract the PO from the ERP and email it to the supplier.
The simpler solution is an automated PO system that is easy enough to fit into your business requirements with features such as automatic purchase order creation, approval routing, and sending notifications to suppliers either via email or through an alert triggered via an online supplier portal. Suppliers can access an online supplier portal to receive purchase orders, make modifications, send order acknowledgments, and generate accurate invoices.
5 Steps to Creating an Automated PO System:
Integrating the purchase order system with ERP
Create an electronic PO requisition and approval process
Transmitting electronic purchase orders to suppliers
Providing suppliers with easy online access to view your POs, acknowledge orders, and send advance shipment notices (ASNs) instantly
Streamline supplier transactions, and manage your purchase-to-pay process
Key Benefits of Automating Purchase Order Process:
Suppliers get a 360-degree view of the status of orders, invoices, payments
The PO requisitions automatically route for approval
Increased invoice accuracy and reduces paperwork
Saves time + resources and make users more compliant
Minimizes inconsistencies and reduces opportunities for errors
Streamlines the entire PO process for speed and efficiency
Enhances productivity by managing multiple orders simultaneously
Reduces long-term expenses
Streamlines inventory management and improves decision-making capabilities
The Business User Story – Improving Supplier Interactions with Dynamics 365
You know how critical it is to keep your purchasing team connected in the office and on the go. Dynamics 365 and Office 365 simplifies and automates daily tasks to keep your procurement team focused on managing purchases. Your buyer receives an email from a supplier requesting additional details on a quote for some items. The system recognizes the sender, enabling him to easily pull up prospect cards within Outlook. From this dashboard, he reviews the account – including the supplier's existing quotes, ongoing orders, and purchase history.
As he's managing the quote, supplier and product information auto-populate, helping him get it done faster. While he was sending the purchase requisition, a note hit his inbox from a potential supplier he recently interacted at an event. The system recognizes that their email address is not in the supplier database, and prompts him to add it. Without leaving Outlook, he creates their profile in the Dynamics 365 app. This kind of automation reduces time spent on administrative tasks, allowing your purchasing team to quickly respond to received quotes and ultimately improve overall interactions.
Figure 3 Upgrading to an Automated PO System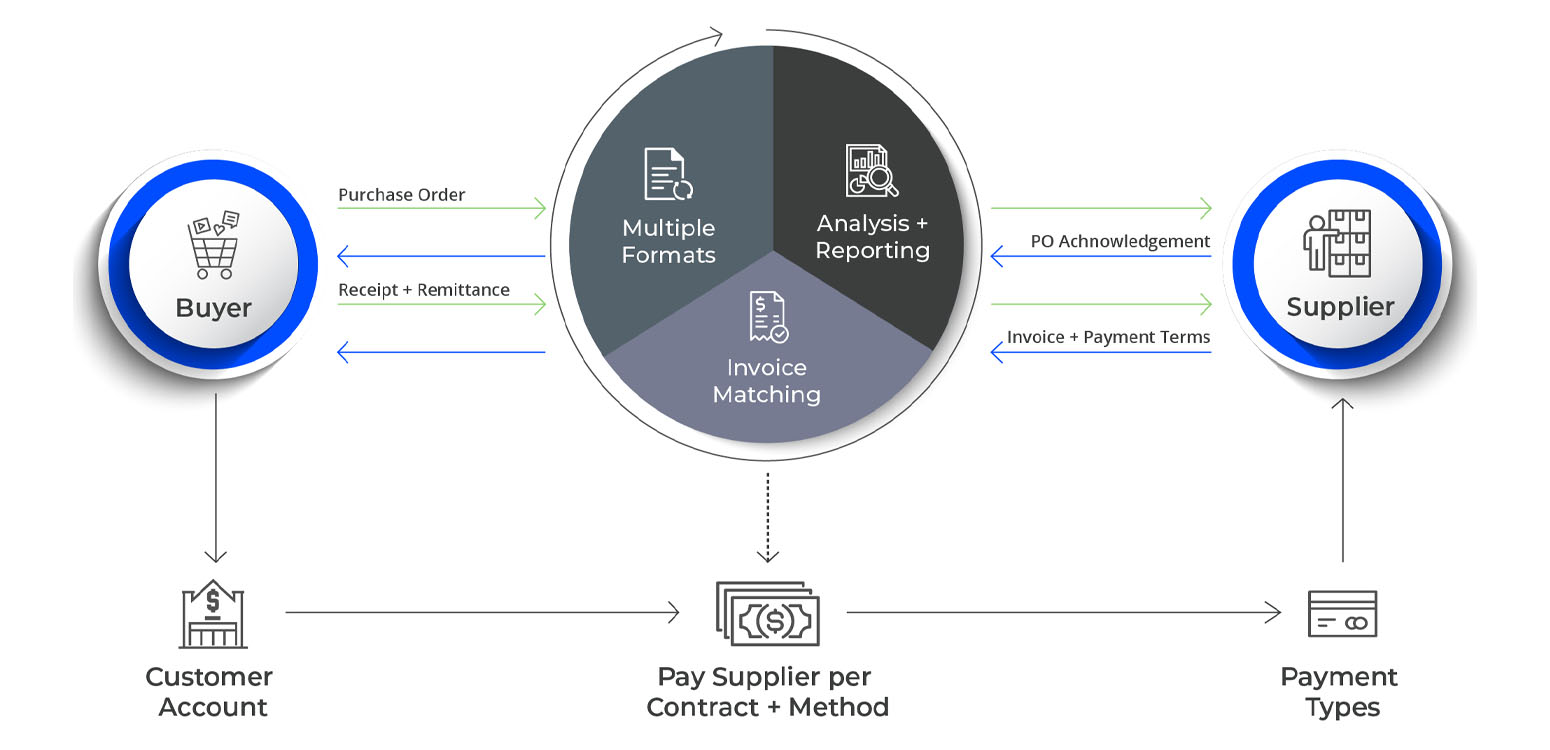 As a business owner, imagine you receive an email from a high-priority customer who urgently needs an order delivered in a short timeframe, and fulfilling that order is heavily depentant on receiving material from your supplier. Microsoft unifies business processes and personal productivity, connecting your people, processes, and systems like never before. With Dynamics 365 Supply Chain, you can find the information you need and act on it without searching for disparate systems or coordinating with other departments. Dynamics 365 workflows help you secure processes and work on the go. Without leaving your inbox, you check inventory and discover that you don't have enough stock on hand to fulfill the order. Your Sales team can quickly initiate a Purchase order directly that goes to the Buyer for 'approval to proceed'. In the same interface, you create and send both a purchase order to the vendor and a quote to your customer, moving on to your next task within minutes.
With Dynamics 365 and Office 365 working together, you can take quick action right from your email – allowing you to spend more time managing your business and connecting with customers.
Key Takeaways
Purchase Order Automation increases the point of revenue, makes the operational process easier, and reduces error rates.
The mature and robust functionality of an Automated purchase order system ensures better functioning of the Purchasing department.
A cloud-based procurement solution offers you greater transparency on purchase order management with ease of access.
CONTACT US and get started with your Purchase Order automation process using Power package with Microsoft Dynamics 365 Supply Chain!
Get started with your Purchase Order automation process using Power package with Microsoft Dynamics 365 Supply Chain!
About XcelPros
XcelPros is a Chicago-based company delivering transformation through technology. We offer business and technology solutions with deep industry experience in Chemical, Pharma, Life Sciences (including Medical Devices, Bio-Medical & Biotech), Insurance, Discrete Manufacturing, Process Manufacturing, Distribution and Food & Beverage.
XcelPros is a Microsoft Gold Partner, Direct Cloud Solutions Provider (CSP) and a Systems Integrator (SI) offering software licensing, implementation and consulting services for Microsoft Dynamics 365, CRM, Microsoft Dynamics AX, Business Intelligence & Analytics (Power BI), SharePoint, Office 365 and Azure (Cloud, IOT, Microsoft Flow amongst many others).
Our mission is to provide integrated technology solutions that amplify impact and empower our customer's businesses. We believe technology is the key enabler of exponential growth for us and our customers.
Contact XcelPros today to transform your business.
Call us toll-free – 1.855.411.0585 (or) visit www.xcelpros.com