Your Challenge in Data Migration
Data Migration
Challenges and Ways to Resolve them
SCROLL DOWN
The solution
The most critical, challenging, and often overlooked aspect of a technological transformation project is a successful data migration process. Understanding different magnitudes and many facets of data migration is not simple, and you would often need an in-depth view of industry, system, and procedures.
Most companies view the ERP system as substantial investment in itself, and when it's time to take up critical tasks such as data migration, they cut corners. This is a result of the poorly allocated time and resources, leading to a less-than-ideal Data Migration Plan (DMP) with inadequate testing and validation.
They come across a plethora of challenges while migrating data. Here are a few to name:
Poor Knowledge of Source Data
First things first, the bigger question here is if your data is friendly or unfriendly.
Your company might be using legacy systems for different purposes:
System 1
A homegrown system for maintaining
Products
Manufacturing
Procurement
Sales
System 2
Another disparate system for maintaining
Financials
Costing
Reporting
Having multiple systems forces you to mine out data from multiple places and provide this data in such a way ensuring safe data import. This is the simplest explanation of the process, but the reality is much more complex and complicated. Many at times, there are a lot of details that are overlooked, and attention to them needs to be given to make your data clean and formatted correctly to make the load friendly.
A knowledge gap includes not being aware of the problems that exist in your data, such as duplicates, missing information, incorrect spellings, and erroneous data. It can be easy to become complacent and assume that your data might be able to be configured into the parameters of a new system. Still, the reality can very well differ when it comes to user acceptance and requires you to have a good knowledge of source data.
Lack of an Integrated Process
Data migration often involves heterogeneous people using disparate technologies. The usage of such diverse systems can lead to the failure to transfer data and its design between the analysis, developing, testing, and implementation phases. The translation of this data can result in the loss of data and can result in increased costs and wastage of time. Organizations must look to utilize a platform that successfully links the critical inputs and outputs from each of the stages to help reduce errors and save time and money.
Failure to Validate the Implementation
Not exploring various scenarios can put you at risk of developing problems when it's too late. Testing your migration with the volume of data from the real world helps you cover a broader range of responsibilities and tests for the worst-case scenarios helping you stay prepared. This opportunity might miss while using more convenient samples of data.
Lack of Collaboration
As mentioned before, data migration is a tedious process involving contrasting people and different technologies, which can often include a mix of internal employees and external contractors as well. In some cases, all these elements might not even be in the same location. In such cases, working in silos can reduce efficiency, create more data silos leading to increasing inefficiencies and misinterpretations. As working together is no cake walk when things go wrong, people start to blame each other rather than resolving the issue. Collaborative tools enable all parties invested in migration to see the same picture of data as it moves through the project stages, leaving little room for assumptions and misunderstandings.
Data Management in D365 Finance and Operation
Microsoft Dynamics 365 offers you an effective solution to manage your data more effectively. In D365 Finance and operations, data management has a workspace that contains different functions to assist with data management activities. The workspace contains setup and configuration for data management projects and provides functionality to import new data and export current data contained in the D365 environment. (note: using Data management is just one of the ways to load data, where data management falls short scripts, and other measures of loading the data are taken)
While importing and exporting data, data management provides the ability to use various types of data sources:
.csv - comma-delimited data source
.txt - delimited data source
.zip - used for packaged data
.xlsx - Microsoft excel data source
.xml - XML data source
Data management framework consists of:
Data entities that represent common data functionality or concepts.
The data project would contain the configured data entities and the mapping for the entity.
Data package that contains multiple data entity files used to import mass data rapidly.
The data job contains an execution instance of the project.
Job history includes all sources for staging and staging to target history.
Data management is not only used for importing and exporting data; this tool can also be used to copy configurations between companies or even environments.
Below are some highlights of what Data migration would look like in Dynamics 365 Finance & Supply Chain for exporting data: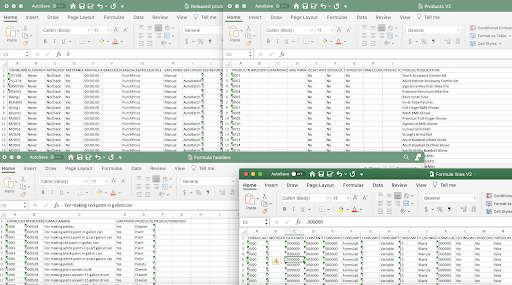 In conclusion, most companies look at ERP systems to be a considerable investment and tend to compromise during the process of data migration. While working on legacy systems is risky, mining out data from different places and providing it in such a way ensuring safe data import is not easy either. A plethora of challenges might arise while migrating data stemming from the poor knowledge of source data. Lack of an integrated process and collaboration can create issues in the validation of this process.
Data management in d365 finance and operations gives you an effective solution by helping you manage your data more effectively. The large workspace gives you varied functionalities to assist your data management activities and many other such features to smoothen your data migration process.
Why XcelPros
XcelPros is a global Technology and Consulting Services firm with deep industry knowledge in Pharma, Chemical, Life Sciences (including Medical Devices, Bio-Medical & Biotech), Discrete Manufacturing, Distribution, Insurance and Food & Beverage.
Our mission is to provide integrated technology solutions that amplify impact and empower our customer's businesses. We believe technology is the key enabler of exponential growth for us and our customers.
XcelPros is a Microsoft Direct Cloud Solutions Provider (CSP), Systems Integrator (SI) and Microsoft Gold Certified Partner for Dynamics 365, AX & CRM offering software licensing in the Microsoft line of products. We specialize in the deployment of on-premise, cloud and mobility solutions in industry leading technologies such as Microsoft Dynamics 365, AX, Microsoft Dynamics CRM, Business Intelligence, SharePoint and Azure.
Delivering efficiencies that matter!
Submit your Challenge
Receive a free consultation from an industry expert within 48 hours.
Data Migration – Challenges and ways to Resolve them
https://xcelpros.com/wp-content/uploads/2020/08/data-migration-banner-img.jpg
1550
750
Xcelpros Team
https://secure.gravatar.com/avatar/96617efae43f5c5d35c22f96f521473e?s=96&d=mm&r=g