At a Glance
The need for integrated Material Requirements Planning (MRP) in growing companies
Gain perspective on MRP and Supply Chain Planning as essential drivers for growth
Managing customer expectations & reality behind the scenes
Real-life pain points
A planner's day-in-the-life and what matters while planning production campaigns
Workforce resistance and solutions in adapting to newer efficient ways of planning
What can an integrated materials requirement planning and forecasting system do for you?
Key Takeaways
Are good supply chain planning methods only for larger corporations?
Whether you are a bakery or a pharmaceutical manufacturing company, planning is happening everyday to balance your supply and demand. If a bakery does not order enough flour, yeast, or eggs – they cannot fulfill their customer demand. Order too much, and they could easily face hundreds of dollars of wastage.
In chemical companies, wastage is not like throwing away a loaf of bread. There are far more repercussions to unplanned operations in highly regulated industries. Bad batches of extremely hazardous or volatile chemicals and constantly yielding unplanned co-products or by-products add additional need to store or dispose based on quality testing done to the batches.
In a pharmaceutical company, the production of batches with lower-than-planned batch attributes, potency for example, can result in an over extended campaign, over consumption of raw materials, and a lower production yield. If a batch is planned for a certain potency, the production process is not complete until quality passes the tests per specification. After reworking the batch a few times the batch may be reclassified to a lower potency not yielding the desired results.
While the concept of Material Requirements Planning (MRP) was originally only intended for manufacturing companies, it now extends itself into all industries, including Service. The role of MRP becomes even more critical in small-to-medium manufacturing companies. In fact, if you are a smaller company, materials and resources need to be planned with precision. Your planners and buyers need clear and precise signals that allow them to make informed decisions on when to buy, and when to produce. The availability of materials and capacity of resources is everything in optimizing and streamlining the supply chain within your plant.
MRP software was siloed and standalone during the initial years of its inception. In the later years, Material Requirements Planning has been included in Enterprise Resource Planning (ERP) software as an integrated module. This integration turned a new leaf in planning allowing companies to serve their customers better with lower cost of inventory.
Let's explore real-life..
Your 'A' customer calls you requesting a quote for a specific product with an aggressive shipping date. You know that your customer has already reached out to secondary vendors for quotes.
To be successful in meeting your customer demand, especially when there is stiff competition, you need to be able to evaluate what your current inventory situation is and how fast you can meet the demand.
Without a proper system in place for MRP you will be forced to build complex spreadsheets with sales orders, supply and demand forecasts and production schedules and manually superimpose inventory availability and resource capacities into the same excel sheet. Sounds complicated? It sure is..
Quite a few of our customers maintain many such spreadsheets on a daily basis and sometimes take 2-3 days to just give a promise date to a customer. This is not sustainable as it puts tremendous pressure on planners, alienates customers and impairs organization growth. Meanwhile, your competition is able to quickly and easily provide a realistic promise date and close the sale, leaving you high and dry.
In order to meet customer demand by their request date, you need a minimum of three inputs –
Planned supply
On-hand availability (after all allocations / reservations) &
Resource capacity
If you are unable to quickly provide an available-to-promise (ATP) date, your customer will work with suppliers who are able to provide a reliable promise date and deliver on time.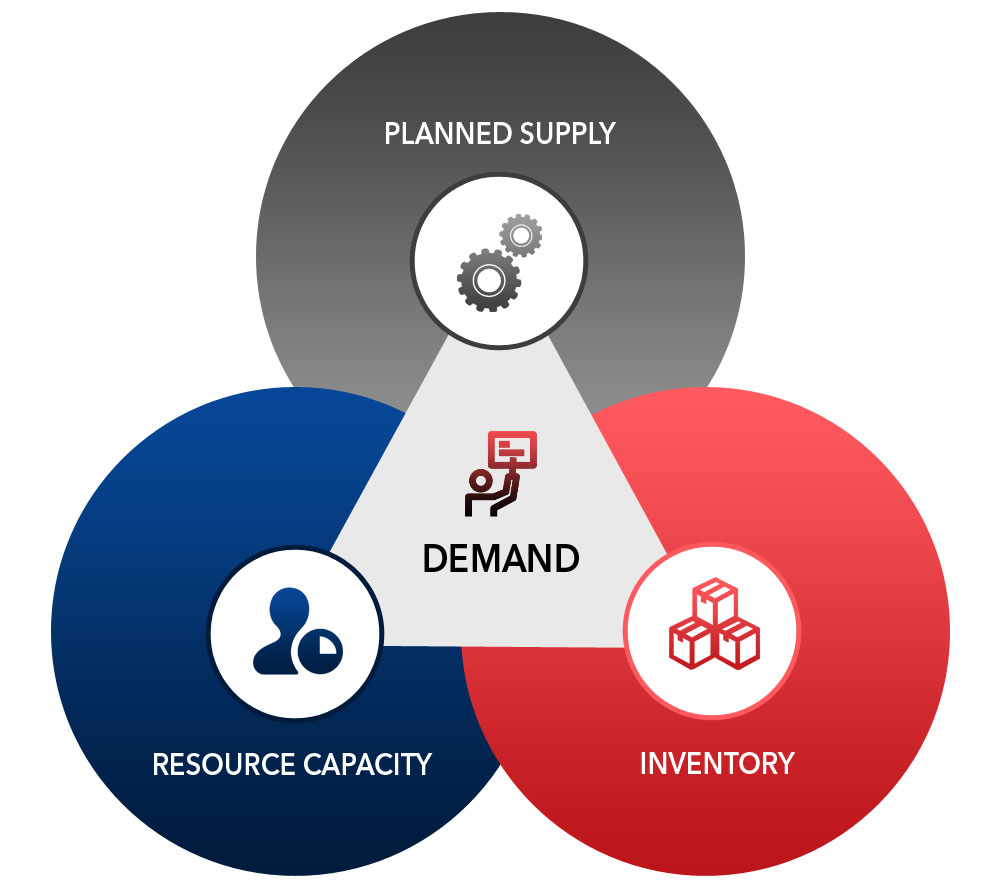 What happens on the ground?
Preparing a production schedule can be challenging if there is no view into inventory levels or the availability of labor and machine resources needed to meet customer demand. Even with a forecast in place, it could be quite hard to schedule production if you are constantly facing capacity issues – be it machine or labor. If you have read my blog –"Standard Costing in Pharmaceutical Manufacturing – Industry Challenges & Solutions", I have described an example of batch manufacturing process and the kinds of data inaccuracies that can occur while consuming inventory during a lot production process. Now add to it the lack of proper resource capacity during a week. Production planning and scheduling becomes a critical function in any manufacturing or distribution company to streamline operations.
"Not only do customers often expect 99+ percent service levels within 24 to 48 hours, but supply reliability is also becoming more tenuous as once local supply chains now extend around the world. Source – McKinsey & Company
You will need to up your game if you want to stay ahead of the curve especially with growing competition where customer loyalty is related to the value that you as a company can provide.
How would your planner be able to handle the signals to produce and purchase without a system that can do that very same thing by virtue of an algorithm in minutes? They need to pull together information such as:
Overall Customer demand
Worker availability
Machine capacity
Raw material availability
Stocked supplies
Quality requirements
Batch potency requirements
Dumping data into excel sheets from different sources and in turn creating a plan for your supply chain by creating a manual schedule is at the very least a basic requirement. I have often heard companies say we don't need a plan or schedule end up in a very reactive production management that results in waste of material and chaotic operations.
Even with basic planning, a company operating in a reactive mode would face loss of inventory and suffocated resource availability resulting in a wastage of company's time and money.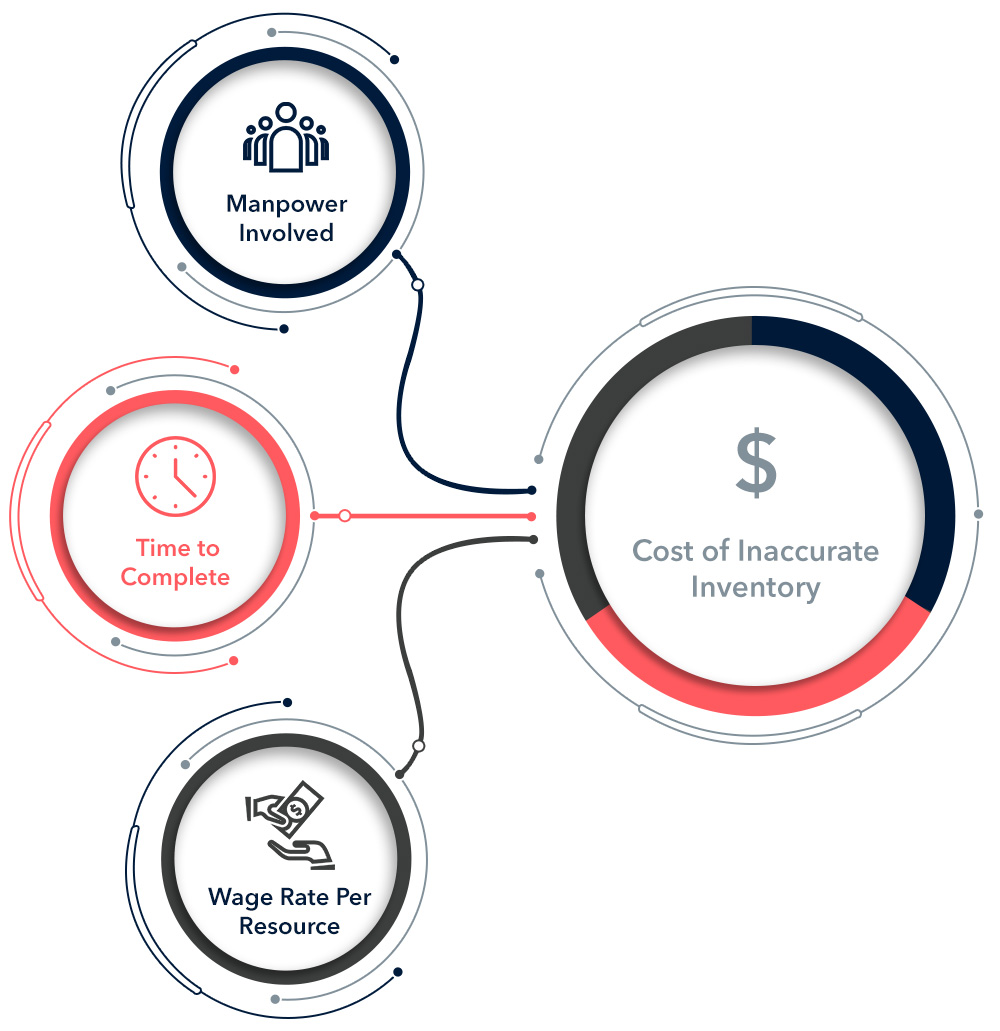 Lack of capacity – waiting for a machine operation to complete one job before the next job starts. This capacity information is crucial in providing a reliable promise date.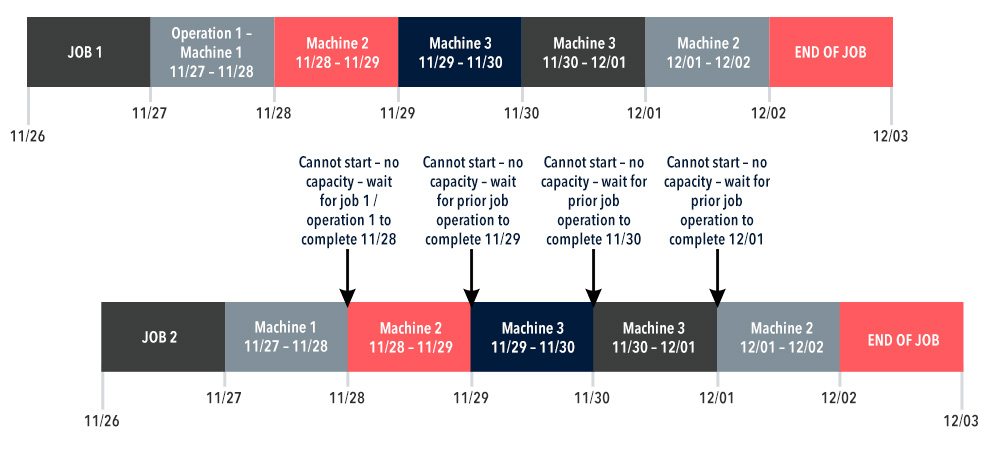 Do you have high customer demand and need to plan your fast moving items?
You are operating in a competitive market, if you are not able to fulfill on-time-in-full and in some situations prior to promise date you lose edge over your peers in the market. Companies that lack proper supply chain planning and that carry extreme resistance to change stunt their own growth as they constantly talk themselves out of proactively planning through an appropriate planning and scheduling tool. This is an issue within any manufacturing company be it discrete or process industry.

Real-life that you can connect to
Your planner is proactively planning out the work orders in most cases weekly and creates a schedule for the upcoming week. Lack of a proper visual capacity planning tool that provides the material availability and resource availability based on requirements is forcing the planner to create a calendar schedule and is manually tracking the production plan.
The plan involves production of a batch and a packout operation to meet the customer's demand. There was an assumption that there is enough inventory available in stock as per your system but the containers are actually empty due to a misrepresentation of inventory. Now, the planner needs to look for alternatives or push out scheduled start on operations. The ripple effect is that customer service now has to go back to the customer with a new promise date. An additional situation occurred when couple of operators who were supposed to work on a certain job had to be repurposed because a certain high priority lot failed quality testing pushing out the jobs that they were scheduled to work on. A certain equipment broke down due to a lack of proper scheduled maintenance in place adding a new variable that is altering production schedules.
In this situation, a well-integrated mobile supply chain and planning system would feed data into each area along with frequent cycle counts on those fast moving products and a good capacity schedule that can predict labor and machine capacities with a secondary backup in place would help your planner proactively plan. A set of resources with the same capability to produce or understanding and planning for an alternative route of operations will alleviate some of the issues that were mentioned in this example.

How will an integrated materials requirement planning and forecasting system help you?It ploughs through the system based on the coverage settings such as lead times and time fences on the product that requires planning and creates production signals based on material availability and resource capacity/ capability. The algorithm looks at the full set of products that require planning and share the same raw materials/ resources and shows the planner schedules for all material requirements to meet supply and demand based on the calendar with working time. The planner sees the same visual schedule similar to the excel sheet and makes informed decisions on how the reprioritization needs to happen and which lot production runs need to be scheduled first. Holidays and weekends automatically can be excluded from the MRP run along with any sales orders/ quotes that are blocked from requirements to be planned.
The algorithm empowers the user to proactively plan and keep a tab on raw material and resource allocations. A stringent production floor standard operating procedure with stop gaps will control any uncontrolled activities that can alter inventory projections.
Role of People
Workforce that has been with you for a long time is your biggest strength as they were able to stick with you through your difficult times and pull your company through when you needed help. They may not be willing to adopt new planning mechanisms to streamline your supply chain.
But how do you bring about a change in attitude especially when your experienced workforce is change averse, risk averse and want life to continue the way it is?
A few proven ways would be –
Educating your workforce on the pros of adapting to newer methods and tools to increase supply chain optimization
Providing assurance to them that the new age tools are actually simpler to use and often follow standard methods of execution
Helping them gently cross the hurdle through a proper change management process
Having them involved in the overall transformation from no planning or manual planning to a systematised planning and scheduling tool
Teaming your workforce with newer team members who may have seen other tools and can be change agents during the process

Key takeaways to proactively plan your supply chain
Look at your current cycle count procedures and re-categorize the ABC items for better visibility.
Engage in proper clock-in/ clock-out and time management procedures through production floor and job management systems to allocate operators optimally for the right jobs.
Provide proper handoffs from one step in the operation to the other to relieve operators and resources appropriately.
Schedule jobs proactively and set good methods in place to operate efficiently.
Finally, do you think your company is able to handle competition well in these markets? How accurately and quickly are you able to provide a promise date that can out run your competition?
Take Our Free Assessment to Get Started With Digital Transformation
About XcelPros
XcelPros is a Chicago-based company delivering transformation through technology. We offer business and technology solutions with deep industry experience in Chemical, Pharma, Life Sciences (including Medical Devices, Bio-Medical & Biotech), Insurance, Discrete Manufacturing, Process Manufacturing, Distribution and Food & Beverage.
XcelPros is a Microsoft Gold Partner, Direct Cloud Solutions Provider (CSP) and a Systems Integrator (SI) offering software licensing, implementation and consulting services for Microsoft Dynamics 365, CRM, Microsoft Dynamics AX, Business Intelligence & Analytics (Power BI), SharePoint, Office 365 and Azure (Cloud, IOT, Microsoft Flow amongst many others).
Our mission is to provide integrated technology solutions that amplify impact and empower our customer's businesses. We believe technology is the key enabler of exponential growth for us and our customers.
Contact XcelPros today to transform your business.
Call us toll-free – 1.855.411.0585 (or) visit www.xcelpros.com