At a Glance
On-time delivery (OTD) is a key metric to measure delivery performance and supply chain efficiency in your organization.
This article talks of a real-life transformation of OTD in a chemical company from 76% to 90%+.
Your 'A' customers contribute to more than 70% of your company's revenue and meeting their sales order demand is critical for customer retention.
Improvement of OTD requires optimization of processes across multiple departments in the organization.
Prime reasons behind late product delivery – lack of real-time data-driven insights, planning, monitoring, and operational efficiency.
Technology and integrated tools play a pivotal role in the monitoring / increase of OTD.
The OTD percentage is a holistic measure of operational performance.
On-time Delivery – Industry Disruptors
Amazon has been a major disruptor in the industry and changed consumer perception by delivering shipments within the promised 2 days. The operational efficiencies required to run Amazon's distribution centers is no joke. Other retail giants have now been forced to follow suit and meet the high standards set by Amazon. The expectation of on-time delivery is now more than ever before in traditional industries such as chemical, pharmaceutical and distribution.
Here are a few KPIs that are critical to measure delivery performance in Logistics and Supply Chain operations –
On-time Delivery (OTD) also referred to as On-time Performance (OTP), Shipped-on-Time (SOT) or Delivery on Time (DOT)
DIF – Delivery in Full
DIFOT – Delivery In Full on Time
Inventory Turns (days)
Costs as a percentage of sales
This article contains real-life experiences of a general manager and executive of a chemical company. We will discuss the key contributors to on-time delivery and how by starting with a low percentage of OTD you can achieve significant gains over time.
The realization
You are responsible for managing operations and see some glaring issues. However, you are not able to pinpoint the precise problem or where to even start. You request Key Performance Indicator data ("KPI") from different departments.
As you begin your review, you notice a lack of focus – i.e., there are several KPIs, all being portrayed as having an equal value. One logistics KPI stands out: The On-time Delivery ("OTD") percentage within the company is only 76%. Upon reflection, you realize efficiency can be enhanced by managing operations with this single measure.
In this blog, we will elaborate why OTD is so important. This single KPI can drive tangible value for your customer and totally change how customers perceive you. Our next blog in the same series expands on the problem/opportunity you inherited, the steps you can take to produce rapid positive results and finally the result achieved.
What is OTD?
OTD is a metric used to assess the ability of a business in fulfilling the shipment order within the period of promised delivery date.
On-time Delivery (OTD) – The Logistics KPI Defined
The On-time delivery performance refers to the ratio of customer order lines shipped on or before the requested delivery date / customer promised date versus the total number of order lines. This is usually expressed as a percentage and can be calculated for several measurement periods.
What is required to Deliver On-time?
1.

You have forecasted estimated demand, ran MRP and ordered materials. You create a purchase order for the required materials.

2.

The materials are received, recorded and put into your raw material stores area.

3.

An order has been received, you check available inventory, determine that you can produce the order and promise your customer delivery on a specific date.

4.

You create a work order and issue it to production.

5.

The materials are correctly picked, moved to the production area and produced.

6.

Inventory is yielded and quality confirms that the produced inventory meets product specifications.

7.

Inventory is put-away to the finished good-storage location.

8.

Per customer promised date, inventory is picked and delivered to the shipping dock where proper shipping documentation is prepared. In chemical or pharmaceutical companies, shipping documentation typically includes other documentation such as Certificate of Analysis (COA), SDS etc.

9.

The delivery is scheduled, the truck arrives to take the finished goods away and the delivery arrives on-time and undamaged.

10.

You just executed the perfect On-time Delivery and, most importantly, your customer is happy that you met their expectations.
Why is OTD Important?
On time delivery drives better collaboration with your customers, ensures reliability of delivery and most importantly customer loyalty.
Customers expect you to meet the promised delivery date. It is important to set the right expectations with your customers and meet them. If you can't meet your customer's expectation and deliver on time then they will find a supplier who can.
Consistent problems with on-time delivery will not only disrupt your business or result in loss of reputation but will also affect many other areas of a company's supply chain and can irreparably damage customer relationship and long-term success.
How to deliver on time?
Understand and track the late delivery reasons, analyse the various factors that contribute to late delivery and identify the root cause.
After identifying the root cause and the issues in late delivery, prioritize the issues and focus on the actionable steps to success.
Develop a plan and implement it.
Monitor results and revise the plan accordingly.
Reasons for late deliveries
With that in mind, think about all the things that can go wrong. The occurrence of any one of the following errors will result in late delivery. Most companies use a Customer Relationship Management ("CRM") system to track and resolve customer complaints. If you are a pharmaceutical customer, the emphasis on quality is significantly higher therefore imperative to manage these inefficiencies a lot closer.
Bad forecasts
Sales over-promising
Incorrect lead-times and safety stock levels
Purchase order errors
Supplier delays
Inventory inaccuracy
Receiving data entry and put-away errors
Production picking errors
Bad standard operating procedures ("SOPs")
Production operator errors
Maintenance and equipment related issues
Quality delays
Product rejections
Material handling put-away errors
Shipping department picking and packing errors
Shipping documentation inaccuracy
Delivery scheduling and late pickup
Damage in transit and late delivery, etc.
Customer changing orders constantly without a proper procedure in place
Customer's inability to handle products received in full – This could be due to lack of storage space, personnel or any other intrinsic reasons etc.
The OTD percentage is a holistic measure of operational performance. It measures an organization's ability to manage its supply chain in a predictable manner. If you live up to the promises you make, you create value for your customer.
Success Story 1
One of our clients, a US-based chemical firm lacked the inventory management software and barcode to line out its full inventory of warehouse and manufacturing facility. To provide an effective solution, Xcelpros designed a new bar code scanning technology for the company along with durable, custom labels to improve data capturing and enhance operational efficiency with an 'integrated material requirement planning system'.
It took us three weeks to give a closure to the entire label installation process without causing any disruption to the live operational environment. We successfully lined-out the warehouse, and the results were great.
Eliminating manual data transcription reduced the scope of error
Automating the procedure helped to minimize the time in materials management
Limiting the frequency of materials-related changes in the production schedule
The chemical company now functions at close to 95% on-time delivery, a 30% increase in operational efficiency—with a 20% reduction in inventory.
Success Story 2
We had to come up with a technological solution for arranging on-time delivery at multiple distribution centers for a client. Managing this complex grid of network to successfully manufacture and deliver the products on time demanded continuous monitoring of production facilities, logistics hubs and consolidation points.
We came up with a supply chain visibility model using advanced analytics to track the order status in the supply chain. We developed a dashboard and reorganized the orders with a clustering approach as per source, delivery destination, stock keeping units (SKUs) etc so that the status of the each individual product is tracked. Following this methodology gave our client a complete visibility on their product status and delivery performance. The real-time data generated better insight across the supply chain, and corrective measures were taken on an immediate basis to manage the impact of late delivery.
Figure 4 depicts the analysis of insufficient lead time given to the supplier. The root cause of this insufficient lead time is the delay and long-stretched process – from the material requirement planning (MRP) to purchase request (PR), to purchase order (PO).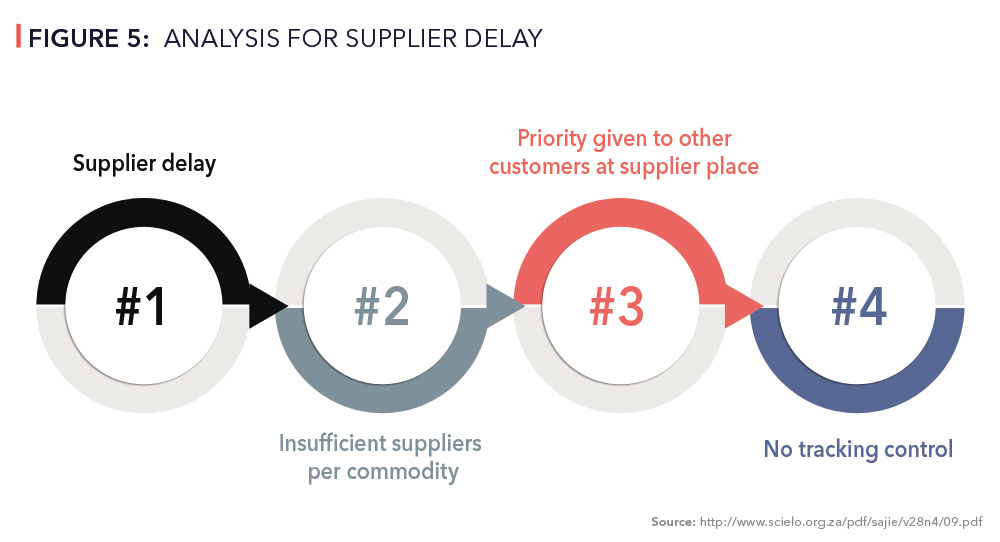 Figure 5 analyzes the key reasons behind supplier delay, which need to be addressed. It pinpoints "no tracking control" to be the prime reason that causes supplier delay.
One of the major concerns here is how to keep a track of MRP-PO-PR conversion if you don't have any component for tracking control. This lack of monitoring brings operational inefficiency due to which there has been a gap between the agreed time and the actual time of delivering the components. They are found to be the major bottlenecks in achieving OTR and thus OTD.
The solution is to develop and design a lean live tracking (LLT) system for the ease of monitoring with very low manual intervention. It aids to bridge the gap between PO releases to suppliers and production completion.
Focus on what matters!
Why you should care about your business processes?So, having determined that the On-time Delivery ("OTD") KPI is the best holistic operational performance measure, I needed to understand how it was possible that we were only satisfying customers only 76% of the time. I conducted a detailed review of every major supply chain and operational process within the company. I found that were quite a few systems and business processes that were inefficient and needed improvement.
Areas that Needed Improvement
Over promise by sales team on delivery time –

Our problems started with sales promising customers a delivery date without any conversation with the Customer Service department. Sales and Operations teams struggled to meet the demand dates leading to a ripple effect downstream. Lack of clear policies and standard lead-times for both make-to-stock (MTS) and make-to-order (MTO) products was the first domino to fall.

Training –

Poor training served to maintain our ISO certification, but was more formed than substance, and it caused issues in virtually every functional area of our business. An emphasis on training is critical for Organization's success and its most effective when imparted on the job.

Standard Operating Procedures ("SOPs") –

Outdated and incorrect SOPs resulted in inconsistent management of inventory and transactional errors. In fact, incorrect SOPs resulted in higher levels of scrap and out-of-spec products that were being rejected by the quality department. The process to main

Communication –

The lack of communication with shipping department led to shipping document inaccuracy, late pickup and packing errors. And negligence of shipping department further led to damage in transit.

Transparency in process –

Moreover, the lack of visibility to downtime and other operational delays further negatively impacted our ability to deliver on-time. These shortcomings drove a lack of consistency, repeatability and predictability.
Little Faith in Company's Material Requirements Planning System – Lack of a sophisticated ERP
A failure to maintain proper and timely planning parameters (lead times and safety stock levels) coupled with inaccurate sales forecasts resulted in production planning and procurement managers abandoning the company's Material Requirements Planning ("MRP") system and instead managing operations using "Tribal Knowledge" and gut instincts.
Managing chemical operations using spreadsheets and gut instincts lead to other problems. The procurement manager approved purchase requests to buy material significantly in excess of what is required to meet the demand. This lead to a huge amount of capital being stuck due to this excess inventory.
This same mentality existed in the production department, where rather than relying on SOPs, products were being manufactured from memory which led to production errors, inventory inaccuracy, poor quality and product rejections.
This, of course, resulted in operators marching to the beat of their own drum and many variations in the products being delivered to quality for review.
Lack of Communication Between Associates
When I considered the lack of well-defined business processes and faith in our systems, I began to believe that 76% On-time Delivery wasn't bad – How did we deliver anything on-time?
It seemed like every order had a problem, causing a late delivery and an investigation always resulted in some culprit who was responsible for acting on their own and making assumptions, rather than following a prescribed, repeatable and consistent process.
This promoted an environment that lacked trust, promoted finger-pointing and made it hard to communicate and act like a team.
Considering Root Cause Analysis (RCA) as a critical factor
Whenever a failure or deviation occurs, there should be a proper infrastructure in place so that RCA can be done efficiently in an optimal duration.
There should be a way to backtrack how the incident happened and capture the information i.e. in case of hardware failure there should be logs, archives, backups. There should be a way to capture and backtrack all business metrics responsible for the incident. Like a plane crash investigation, we should be able to backtrack and find what happened before seconds to disaster.
These are just a few opportunities that need improvement. Most of these can be addressed by virtue of a system / technology that connects the business processes within various departments / functions in the company.
Start Your Digital Transformation Journey with Free Assessment
About XcelPros
XcelPros is a Chicago-based company delivering transformation through technology. We offer business and technology solutions with deep industry experience in Chemical, Pharma, Life Sciences (including Medical Devices, Bio-Medical & Biotech), Insurance, Discrete Manufacturing, Process Manufacturing, Distribution and Food & Beverage.
XcelPros is a Microsoft Gold Partner, Direct Cloud Solutions Provider (CSP) and a Systems Integrator (SI) offering software licensing, implementation and consulting services for Microsoft Dynamics 365, CRM, Microsoft Dynamics AX, Business Intelligence & Analytics (Power BI), SharePoint, Office 365 and Azure (Cloud, IOT, Microsoft Flow amongst many others).
Our mission is to provide integrated technology solutions that amplify impact and empower our customer's businesses. We believe technology is the key enabler of exponential growth for us and our customers.
Contact XcelPros today to transform your business.
Call us toll-free – 1.855.411.0585 (or) visit https://xcelpros.com/