How Life Sciences CROs Are Changing To Strategic Partners: The Covid-19 Effect
https://assets.xcelpros.com/wp-content/uploads/2021/12/29011155/cros-move-from-conventional-project-management-to-strategic-partnership-banner.jpg
700
500
Xcelpros Team
https://secure.gravatar.com/avatar/96617efae43f5c5d35c22f96f521473e?s=96&d=mm&r=g
At a Glance
The biotechnology and life sciences industry is at a cusp of significant changes due to COVID-19. A lot of fluidity is built up due to the pandemic and a significant dependency on government rules, FDA regulations, intricate drug production and overall research and development.
These firms are looking for Contract Research Organizations (CROs) who can take the role of strategic partners that can manage their life sciences research & development. The preference of CROs has already shifted from traditional to technologically adaption that can handle the rapid pace needed due to the existing COVID-19 emergency.
The call for innovation and increased collaboration among CROs has led to a new, more comprehensive project management era. It is improving customer engagement and experience.
The Role of a Contract Research Organization
Project management is the backbone of any contract research organization. Regardless of its specialty–biopharmaceutical development, commercialization, preclinical research, clinical research, clinical trial management or pharmacovigilance-all require project management. Pharmaceutical and life sciences companies outsource research and development work to CROs for better time management, test data maintenance and focus on concrete results.
While the role of CROs was not very well defined in the early 2000s, they have evolved from being mere project management vendors to strategic partners for life science organizations. Contract work is now common in various steps of the research life cycle. Adding contractors is now a necessity for the R&D wings of any biotechnology or pharmaceutical company.
Active engagement with CROs helps accelerate the drug development process. In the Covid-19 era, these CROs must be prepared to streamline their project work without a process breakdown.
CROs have evolved from a target-based model to become more a strategic partner to life sciences and biotechnology companies.
Pharmaceutical companies conduct sponsored trials, driving their products safely and quickly to the market. Initially, these projects were outsourced to CROs with a limited scope of time and budget management. Now the CROs are expected to manage risks and maintain transparency throughout the clinical trials. The rapidly expanding biochemical industry demands that CROs keep up with market conditions.
According to contract research organizations global market report, The global market for clinical trial services to biopharmaceutical, biotechnology and medical device companies is forecast to grow at 12% year on year up to 2021.
This stat is already obsolete. The need for contract research and development services is increasing as life science companies seek to find effective treatments and possible cures for the SARS Covid virus.
Figure: 1 Steps for Right Partner Selection
Growth and general technological disruptions in project management are leading to a progressive change in the roles of CROs while managing sponsored clinical trials.
Situations affecting CRO evolution
End-to-End Strategic Partnerships: CROs are no longer just outsourced vendors for life sciences companies to carry out Pharma research or conduct clinical trials. CROs are now expected to become pharma companies' strategic partners, helping make their clients successful. End-to-end coordination with pharmaceutical companies gives these organizations the time and stability they need to focus on core research. Coordinating from the start helps the CROs capture the right kind of clinical data required to make each drug commercially viable.
Bringing Innovation to the Table: CRO project management is not just about completing given tasks while meeting their client's deadlines. Working closely with their customers means changing how they work. That, in turn, requires newer project management approaches that take research from start to finish. Pharmaceutical companies expect innovative, out-of-the-box solutions to manage risks, cut costs and push the boundaries of paramedical science while complying with the government's rules and regulations. An important change is that CRO project management has moved from being reactive and solving problems to becoming proactive, anticipating problems and providing solutions.
Figure: 2 Key Parameters CROs are Assessed on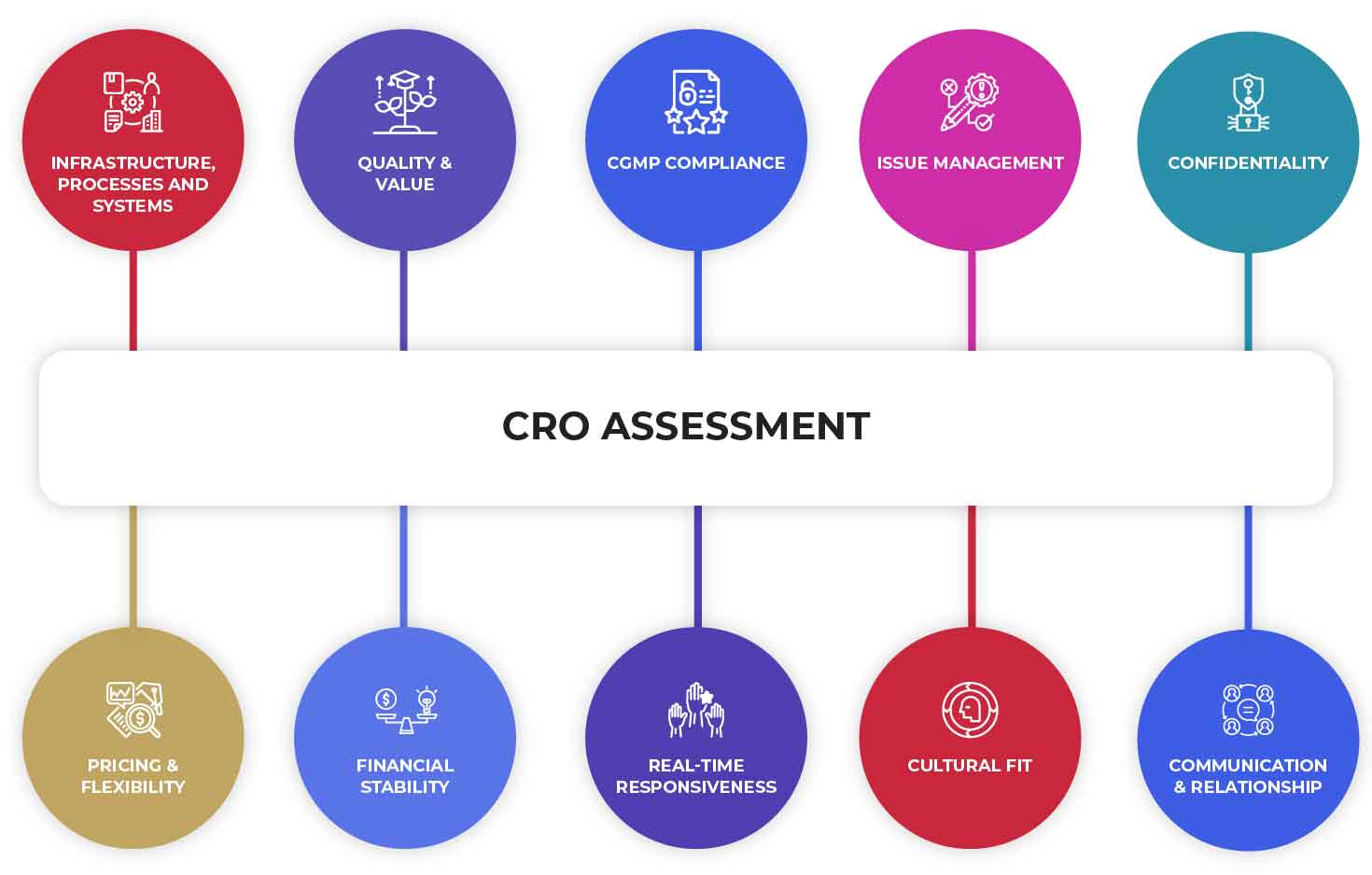 Being Technologically Ahead: Companies can start with three main technology initiatives: transitioning to cloud computing; creating strong workflows to move processes and procedures forward; using online collaboration tools.
Each of these above points leads to faster results, fewer errors, better team management and improved communication between the client and the CRO during the project life cycle.
Get a consultation to learn more about life sciences digital transformation.
Customer Experience and Engagement
A crucial part of project management is actively engaging clients when a project requires collaboration. Customer experience and engagement can no longer be ignored. Making a strategic partnership work requires communication between everyone involved.
An effective customer experience approach requires knowing what to do, how to do it and using every available tool to create acceptable results.
Connect your processes, customer data and tools with Dynamics 365 and the Microsoft Cloud
Customer Experience (CX) and Customer Engagement (CE) can be made better for a CRO
01.

Process and Procedures

Some ways to improve the customer experience and boost customer engagement are:
Improving team management
Quick onboarding of clinical trial experts
Using effective cost management techniques
Proactively managing clinical trial risks
Mitigating probable risks strategies
Using detailed analytics to monitor, report and understand research data
Using resource planning tools to optimize resources for multiple projects
Simplifying milestone-based billing
Improving deviation-tracking methods to remove unknowns early in the project lifecycle.
Life science CROs should consider using a next-generation customer experience platform to accelerate development and drive demand. Microsoft Dynamics 365 is one such system that offers the essential tools and capabilities in one comprehensive ecosystem.
The seamless integration between Dynamics 365, robust cloud computing, artificial intelligence and tools such as Office 365 can help. Dynamics 365 is a class-leading life science customer engagement platform that functions across mobile devices, which is a large market need.
02.

Digital Advancement

To enhance their customer experience and engagement, companies should:
Move from legacy systems to the cloud
Use advanced analytics for risk prediction and mitigation
Systematically manage their R&D database with digital applications
Use software tools to Improve collaboration with clients
Reduce human intervention and automate project management workflows
Create customer and supplier self-service portals to engage both
Use in-line reporting through key project milestones to build trust and visibility with customers
03.

The Inevitable Evolution

The changing role of CROs is leading to greater expectations from life sciences clients. Pharmaceutical companies are looking for CROs that are not afraid to push boundaries and are adept at using the latest tools and techniques.

Companies aiming for greater customer satisfaction can use cutting-edge technologies to engage with CRO's at an integral level. As a result, CROs are becoming be more innovative and agile in their project management approach.

An interdependent relationship helps with clinical trials while improving the client company's overall research and development. A well-managed and organized workflow-based environment helps contractors and clients.

Two tools that can help build this interdependency are Microsoft Dynamics 365 Finance combined with D365's Supply Chain Management. The two modules can help create a comprehensive system to aid a CRO in becoming better strategic partners with Pharma and Biotech companies.

Figure: 3How to Create Successful Sourcing Partnerships?
Increase your speed of business with unified processes and predictive analytics
The speed of doing business is increasing. As companies seek to stay competitive, they must rely on technology to provide agility and the capabilities needed to excel. However, many organizations are still running on ERP systems that are complex, inflexible and impede their ability to innovate and grow.
Microsoft Dynamics 365 helps you to
Elevate your company's financial performance and streamline its supply chain management
Innovate with connected operations in an extensible platform
Drive HR operational excellence through organizational agility and centralized data
Unify the processes listed above with predictive analytics and intelligence
Track and trace inventory management
End-to-end customer project management
Key Takeaways
CROs are transforming from time-bound project management consultants into performance and results-oriented firms.
As technology evolves, so do project management tools. CROs are equipping themselves with these tools for better time management, budget management and risk mitigation.
Technology allowing smoother customer and supplier onboarding for clinical trials is needed today.
Pharmaceutical companies are looking for CROs to manage R&D projects end-to-end while providing innovative solutions.
While time management and cost management will always be top priorities for CROs in any project, they must also offer greater returns to their clients.
About XcelPros
XcelPros is a Chicago-based company delivering transformation through technology. We offer business and technology solutions with deep industry experience in Chemical, Pharma, Life Sciences (including Medical Devices, Bio-Medical & Biotech), Insurance, Discrete Manufacturing, Process Manufacturing, Distribution and Food & Beverage.
XcelPros is a Microsoft Gold Partner, Direct Cloud Solutions Provider (CSP) and a Systems Integrator (SI) offering software licensing, implementation and consulting services for Microsoft Dynamics 365, CRM, Microsoft Dynamics AX, Business Intelligence & Analytics (Power BI), SharePoint, Office 365 and Azure (Cloud, IOT, Microsoft Flow amongst many others).
Our mission is to provide integrated technology solutions that amplify impact and empower our customer's businesses. We believe technology is the key enabler of exponential growth for us and our customers.
Contact XcelPros today to transform your business.
Call us toll-free – 1.855.411.0585 (or) visit https://xcelpros.com/