Organizations are rapidly moving to the cloud for ease of storing data and to boost technology innovations. Modern businesses understand the strategic competitive advantage and availability of customized applications to suit a their needs. Especially during the outbreak of the COVID-19 crisis, many organizations are at the crossroads when it comes to letting go of their onsite infrastructure and hardware in favor of moving to cloud. The rate at which the cloud is adopted for business survival, is pushing all enterprises who are still playing catch up to move faster. There is a need for experts who not only understand, but also monitor and implement an organization's end-to-end cloud computing journey.
FIGURE 1 Key reasons companies are switching their operations to cloud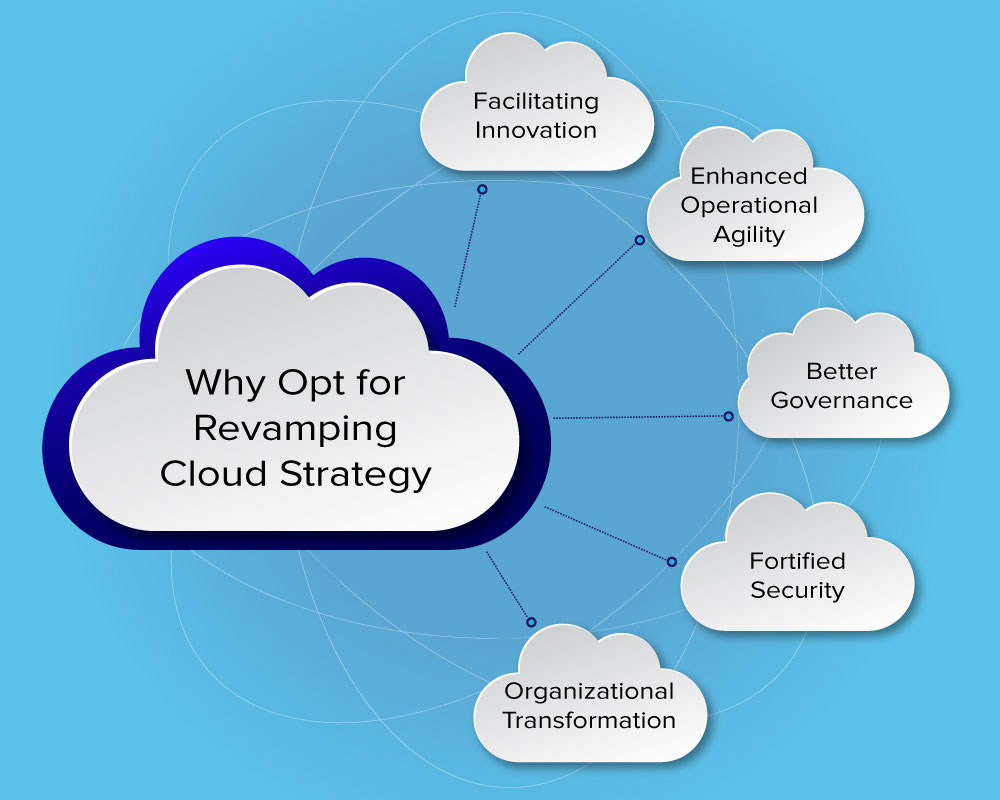 Now more than ever cloud migration is imperative to avoid glitches in infrastructure, as the market is trying to survive the pandemic.
The year 2020 will see $216 billion worth of IT spend shifting to cloud.Source: Gartner
Many companies are looking at how they can equally focus on the technological as well as process reengineering needs of the business. It is important to know why you should consider revamping your cloud strategy and what steps can be taken to successfully complete the reboot.
FIGURE 2 Factors that drive a cloud transformation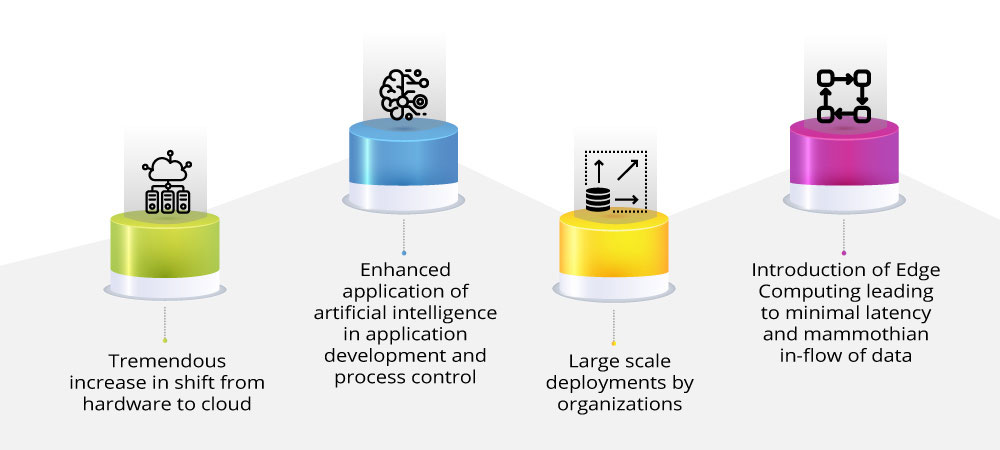 Reasons you should consider revamping your cloud strategy
01.

To achieve agility when it comes to delivery and organizational adoption

While every organization has its unique cloud roadmap to fulfill the bigger picture of their IT landscape, it is essential to make amends to the cloud strategy for achieving a rapid transformation. Agility would also mean the pace at which your business can adapt the transformative (and at times disruptive) changes in an organization. By restructuring your cloud journey, you can move from delivering big, singular-origin and rigid applications over a large period of time to deploying flexible, smaller applications in shorter durations. Byte-sized transformations!

Similarly, at an organizational level, companies must factor in the process and resource changes in a software development lifecycle. A revamped cloud strategy will help you be prepared for nimble operations, facilitating both continuous development (CD) and continuous integration (CI) with the DevOps model and boost your overall business.
02.

To smoothly transition to developing the next-generation applications

The future of the cloud is all about speeding up the process of application development with the help of cutting-edge technological advancements like Artificial Intelligence (AI), Internet of Things (IoT), data analytics and machine learning. Your organization's strategists must ask themselves if your IT roadmap is compatible to access and utilize these cloud-native solutions. In today's virtual world everything is connected and a rapid innovative delivery model will be needed to predict future customer demand based on historical data analytics. This can be achieved with better accuracy by making necessary amends in the IT roadmap, starting with cloud transformation-ending at the ultimate optimization. Cloud technologies such Microsoft Azure, Azure IOT, Power Platform, etc., efficiently handle the day to day tactical business operations as well as stay in the path of the company's long term strategic vision.

Companies are benefiting with these cloud technologies for various departments. If we were to consider a few use cases related to enhance HR, modern enterprises are leveraging these latest tools to –
attract a new generation of employees creating an agile workforce.
acquire workforce and smoothly onboard as well as engage the new employees remotely
identify skill gaps and equip the workforce so that business can stay agile and pivot in these challenging times
03.

To improve the governing process

Whether your organization goes for an all-out cloud computing roadmap or a hybrid one, a proper governance process is required without which maintenance can be a hassle.

FIGURE 3 Organizations are expecting a holistic development in operations from hybrid cloud
If you are unable to quickly provide an available-to-promise (ATP) date, your customer will work with suppliers who are able to provide a reliable promise date and deliver on time.
Implementing a cloud strategy can affect both the organization and its people. The entire ecosystem needs intricate monitoring of the transformation through –
an infrastructure that supports the organization's cloud journey
on boarding experts who can not only implement but also help enhance the digital skill level in the company.
According to Gartner, 90% of organizations will have adopted a hybrid cloud strategy by 2020
Cloud is not a simple, single-server governed system and thus this multidimensional canvas needs just as many levels of holistic management and governance. This could be achieved by revamping the strategy to align it to your roadmap while creating a comprehensive cloud transition plan.
04.

To make sure that security is never compromised

As data is moved online, companies usually get worried about security and data privacy. By rebooting the cloud strategy to a robust application such as Microsoft Azure, you can ensure that the security, authenticity and longevity of your organization's data, processes and applications is not compromised at any cost.

According to Gartner, through 2022, at least 95% of cloud security failures are predicted to be the customer's fault.

Well, you certainly do not want to be in that statistics and hence timely strategic measures are must to prevent major cloud computing security threats.
05.

To acknowledge and cater to the changing roles and responsibilities

There is no denying the fact that the move towards cloud has changed roles, responsibilities and accountability across the board for organizations. You will not only need a strategic plan for overhauling the cloud roadmap but to build a skill base that can take on their new roles and responsibilities. Especially when it comes to Customer Service, the relationship between companies and their customers will be more than just 'order to shipments'. Cloud software will be able to predict more accurate customer behaviors and forecasts with the help of predictive analytics.
Steps you can take to successfully revamp your cloud strategy
While every organization has its set of challenges and requirements when it comes to strategic rethinking of the cloud journey, here are some of the pointers to remember while rebooting your cloud architecture:
You need to build and update your employees' skills to successfully your organization's cloud transformation. Remember, every cog in the machine counts and thus a comprehensive, organization-wide plan to educate your employees is must for your revamping cloud strategy;
Opt for multiple layers, a multi-cloud friendly infrastructure that will ease migration from older versions to newer ones;
Make use of predictive data analysis to preempt technical and operational glitches (trust us, there will be some!) so that your organization is prepared for a strategic cloud revamp;
Define your cloud milestones beforehand and make sure that you stick to them. Your strategic roadmap to cloud reboot is going to be as unique as your requirements, and there will be a need for a proper team alignment to smoothly transition into the cloud infrastructure. Form a blueprint of the cloud revamp and let it guide you with the pace of your company's ability to handle the change.
Invest in highly skilled SMEs who will make the end-to-end implementation of a new cloud strategy as smooth as possible for your organization.
FIGURE 4 Strategies to successfully complete the cloud transition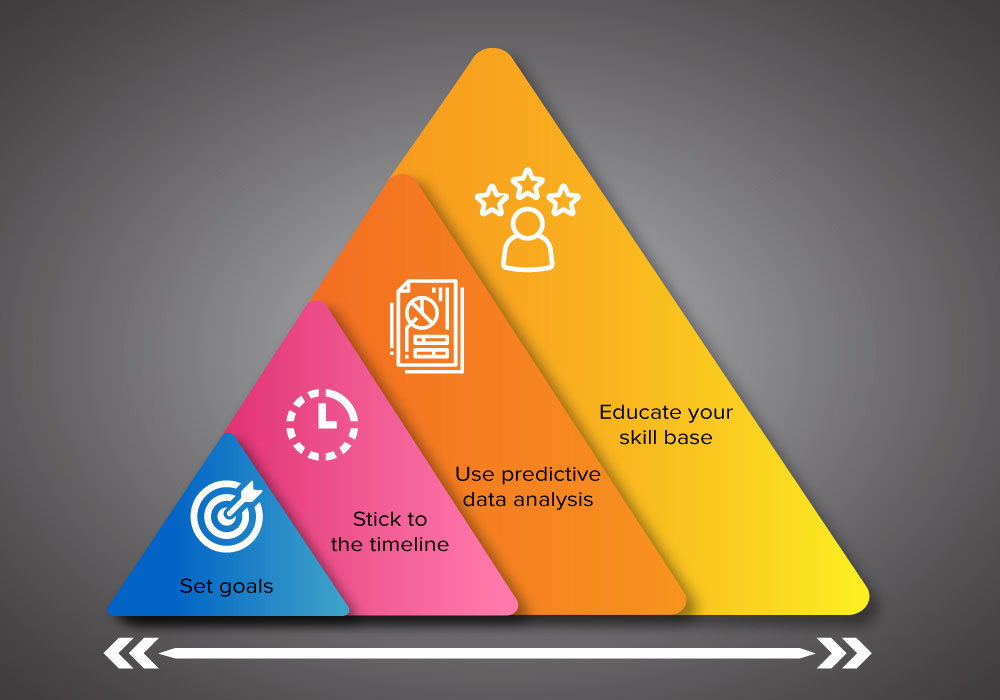 While at first a complete revamp to your cloud strategy may sound pain-staking, in the long run your organization will benefit from this overhaul. If you take a step back and go to the core of your cloud journey, you will find it easy to form the blueprint for a strategic cloud reboot.
Key takeaways
Cloud infrastructure is not a nascent buzzword anymore; it is a comprehensive and disruptive phenomenon that will aid in running your business especially during COVID-19.
In order to avoid subpar results from your cloud journey, you must rethink your cloud architecture.
According to a recent survey by Virustream, 86% of enterprises are shifting towards a multicloud approach.
Introduction of cloud-native solutions such as IoT, AI and machine learning are proving to be vital in the digital journey of an organization and your cloud roadmap needs to be compatible with these cutting-edge innovations.
It is highly imperative to build a skill base that can comprehend and implement the revamped cloud strategy in your organization.
For enhanced cybersecurity, sign up for Microsoft Azure.
About XcelPros
XcelPros is a Chicago-based company delivering transformation through technology. We offer business and technology solutions with deep industry experience in Chemical, Pharma, Life Sciences (including Medical Devices, Bio-Medical & Biotech), Insurance, Discrete Manufacturing, Process Manufacturing, Distribution and Food & Beverage.
XcelPros is a Microsoft Gold Partner, Direct Cloud Solutions Provider (CSP) and a Systems Integrator (SI) offering software licensing, implementation and consulting services for Microsoft Dynamics 365, CRM, Microsoft Dynamics AX, Business Intelligence & Analytics (Power BI), SharePoint, Office 365 and Azure (Cloud, IOT, Microsoft Flow amongst many others).
Our mission is to provide integrated technology solutions that amplify impact and empower our customer's businesses. We believe technology is the key enabler of exponential growth for us and our customers.
Contact XcelPros today to transform your business.
Call us toll-free – 1.855.411.0585 (or) visit www.xcelpros.com
DISCLAIMER:
All statements and/or opinions expressed in this article were based on experience and / or third party materials available to the authors which formed the basis of such statements/opinions. XcelPros does not warrant the accuracy, completeness, or reliability of such underlying information (or the Company's interpretation thereof) which has formed the basis of the Company's and/or author's opinion. We strongly recommend that you consult an expert from XcelPros before you take action as a result of this collateral.