How to Manage Operations During Supply Chain Disruptions
https://xcelpros.com/wp-content/uploads/2021/01/supply-chain-disruption-bnr.jpg
1920
1080
Xcelpros Team
https://secure.gravatar.com/avatar/96617efae43f5c5d35c22f96f521473e?s=96&d=mm&r=g
Introduction
The global disruption caused by COVID-19 has proven to affect every level within the supply chain and across every industry. The supply chain disruption was unanticipated, especially concerning food and products related to cleaning supplies. Manufacturers had an unexpected spike in demand that couldn't be managed very quickly.
Many companies have taken new ways to strategize the move forward. Re-evaluating plans of actions as it relates to production capacity, cash flow and overall employee morale. This article will look at a few ways businesses can leverage existing practices while pivoting to newer methods to meet evolving needs of customer demands.
Figure: 1Surviving the Supply Chain with a Digital and an Analytical Backbone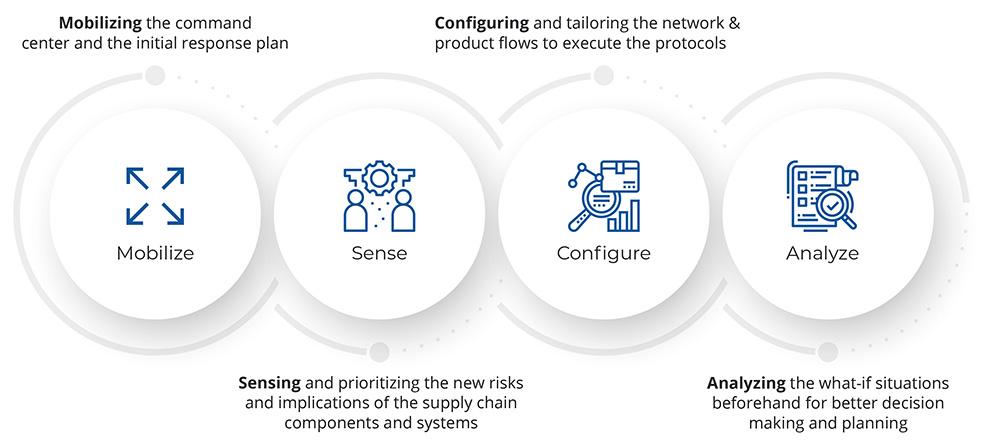 Communication and Collaboration
The first quarter of 2020 brought new dynamics to manufacturers and distributors. They are faced with a challenge, unlike any other, that affects everything and every person somehow. As market dynamics have changed, communication at every level is vital for companies. You need to consider all the stakeholders within your organization (employees-customers-suppliers), and formulate a communication strategy to avoid business breakdowns.
While COVID-19 may have deterred your technology roadmap plans short term, there are still ways to drive innovation and growth. We have seen that the flexibility to do business from anywhere is now essential. Companies have adjusted to unconventional work schedules. They need to meet customer expectations, engage through messaging and video calls (Microsoft Teams), or deploy safety alert messages with (Power Automate) will more than likely be here to stay.
Customer and Vendor portals with Microsoft Dynamics 365 for Supply Chain allow visibility for companies to collaborate with specific access to the availability and forecast of their products without having to pick up the phone. Any issues can be resolved or prepared for within a moment's notice resulting in better supply chain disruption management.
For an advanced manufacturing experience, Dynamics 365 for Supply Chain offers options for integrating IoT, Machine Learning and bots into your current operations. Connecting data and processes with the Microsoft ecosystem of products you probably already have in place will allow your production and maintenance teams to schedule downtime and alert personnel to any machine inconsistencies that may require repair with Outlook messaging and alerts.
Agile decision making
Customer demands and delivery expectations drive the need for a more robust process to respond to the rapid changes in the market. A few factors to consider are that your customer base and its supply chain may be affected and if their business demands change, so may yours. Having the ability to act quickly while still keeping in mind the customer experience is still critical to future business success.
By now, many of your cross-functional teams have undertaken the task of scenario planning. Current forecasting schedules have proven themselves less useful for the last six to eight weeks. This planning considers several factors: remote work, social distancing safety practices, a hybrid of past customer and supplier behaviors. Dynamics 365 for Supply Chain has been enhanced with several tool designs specifically for scenario planning required during unexpected changes in the supply chain.
Drag and drop Gantt charts for production scheduling.
360 degree view into capacity and identify bottlenecks (people and resources).
Safety stock based on real-time demands instead of a fixed quantity.
Vendor Portal with approved suppliers database with SRM functionality and PO management.
Visibility into Warehouse Operation(single and multi-site).
Transportation Management.
Customer Portal with sales order management.
It is safe to say that any organization is faced with agile planning when the answer will not be 100% correct. However, having the systems and processes to manage such situations will allow the opportunity to weigh the risk of supply chain disruptions and act accordingly to reduce it.
Incorporating Data
Data in today's operations is a moving target. Making decisions with real-time information and providing insights into the ability to grow and scale will help the differentiator move forward to operate efficiently. Identifying the organization segments that require optimizing, like the handoffs between operations and finance, will require that the correct data is available.
Company executives for the foreseeable future will be analyzing cash flow and the only way to get that 360-degree view will be through data generated within each division of the business. This is where a business analytic tool like Power BI will become an essential part of the process. Power BI dashboards using predictive analytics setup within the Dynamics 365 environment are updated with the organization's latest data. For companies monitoring the status of multiple locations having that dashboard will save a tremendous amount of time. Management can share data, communicate and respond to changes in the market within minutes, not days.
Final thoughts
Regardless of the industry, we have been affected by coronavirus. It is the first disruption of its kind for this entire generation. Companies without notice have had to adjust almost instantaneously hundreds of moving parts. As manufacturing companies deal with absenteeism ( internally and within the supply chain), pivoting production and unprecedented customer product demand, having the right tools in place will prove to be the differentiator.
The Microsoft ecosystem has evolved to be the partner solution, providing the necessary transparency with all stakeholders while offering the consistency in product and familiarity that your employees have come to know.
Book A Free Consultation For All Your Supply Chain Needs
About XcelPros
XcelPros is a Chicago-based company delivering transformation through technology. We offer business and technology solutions with deep industry experience in Chemical, Pharma, Life Sciences (including Medical Devices, Bio-Medical & Biotech), Insurance, Discrete Manufacturing, Process Manufacturing, Distribution and Food & Beverage.
XcelPros is a Microsoft Gold Partner, Direct Cloud Solutions Provider (CSP) and a Systems Integrator (SI) offering software licensing, implementation and consulting services for Microsoft Dynamics 365, CRM, Microsoft Dynamics AX, Business Intelligence & Analytics (Power BI), SharePoint, Office 365 and Azure (Cloud, IOT, Microsoft Flow amongst many others).
Our mission is to provide integrated technology solutions that amplify impact and empower our customer's businesses. We believe technology is the key enabler of exponential growth for us and our customers.
Contact XcelPros today to transform your business.
Call us toll-free – 1.855.411.0585 (or) visit www.xcelpros.com