Introduction
The pharmaceutical market has faced various challenges during COVID-19, including adhering to additional regulatory standards. Due to stringent FDA pharmaceutical regulations, pharma companies always need to stay upto date on their compliance tools. Many pharma manufacturers feel that following best practices and maintaining higher quality standards would turn into a hindrance to business productivity. However, with the right technology strategy , Pharma companies can employ the same standards to increase their overall productivity.
On an average, about 4,500 drugs and devices are pulled from U.S. shelves each year.Source: US FDA
Planned and unplanned FDA audits are common in the industry. Companies that don't meticulously maintain accurate records tend to struggle when an unplanned inspection occurs. FDA inspections are needed to ensure that companies adhere to all compliance requirements. No organization should struggle to find the necessary details to justify deviations, out of spec procedures, batch approvals, and so forth. Read on more to know why Pharmaceutical companies fail FDA audits and how they can be more prepared when a random audit occurs.
Figure 1:The six systems that are CFR 21 Part 11 compliant
Why Pharmaceutical Companies Fail FDA Audits?
An FDA audit gives Pharma companies a perspective on how well prepared they are. A forthcoming GMP audit can even serve as a driving force for long-awaited business initiatives. Hence, pre-audit preparations are all about focusing on quality issue identification and its resolution. However, FDA audits can be stressful for the Product Quality Management Officers, Quality Risk Managers, and other personnel responsible for ensuring GMP throughout the process control. As shown in Figure 1, the six systems that are CFR 21 part 11 compliant have to installed with the right processes to record data accurately.
There are a series of factors that contribute to audit failures in pharmaceutical companies. Given below is a brief comparison of the major ones.
Figure 2:Factors Incurring Audit Failure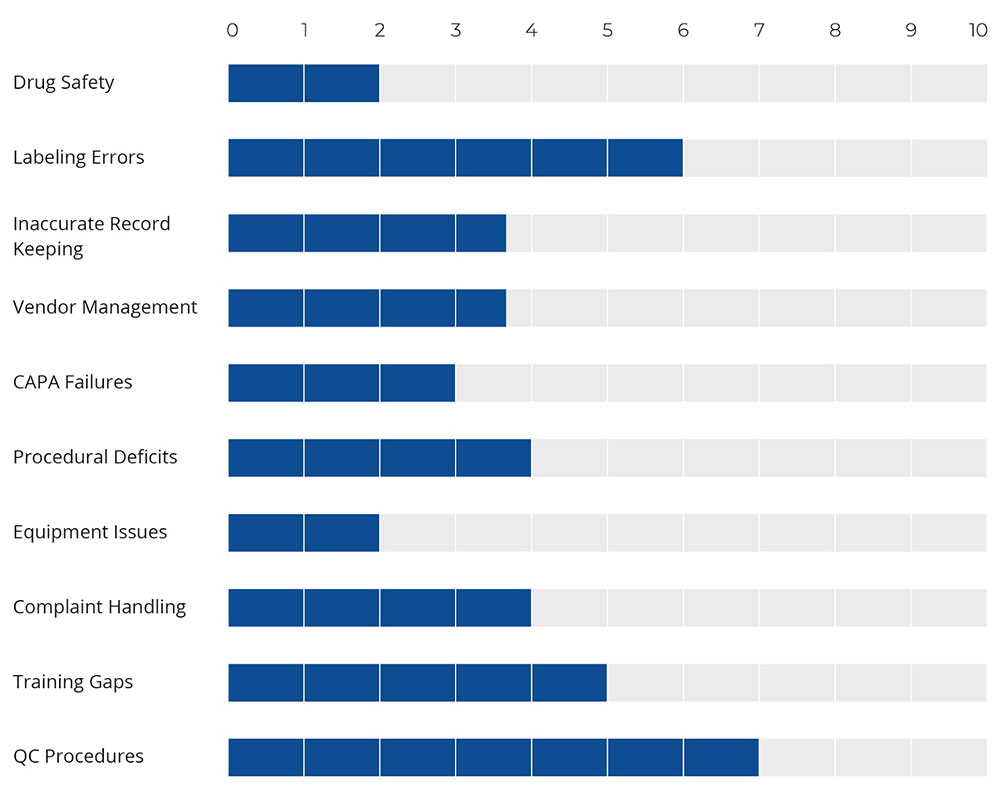 Coping up with Various Types of FDA Audits
Every Pharmaceutical company is bound by FDA regulations and can expect an audit sooner or later. These audits ensure process compliance relevant to Standard Operating Procedures (SOPs), good manufacturing practices (GMPs), and other regulatory criteria. FDA may conduct four different types of inspections depending on purpose and timing.
1.FDA Pre-Approval Inspections (FDA pai):A pre-approval inspection may occur after the company submits a new product to FDA. This audit intends to verify the data you have included in your application and ensure that your equipment plus facilities are appropriate for manufacturing the finished product. FDA determines the pre-approval inspection with a risk-based approach, product type, and process risk. Process risk factors in development data and whether the process is appreciably new to any you have done before.
Getting a pre-approval inspection indicates that your company meets QMS requirements and can continue with the protocol. The required rule for pre-marketing audits originate from FDA, so it is possible to prepare ahead. A pre-approval inspection's potential outcome is that the inspectors will either recommend for or against FDA approval.
2.Routine Inspections:Companies manufacturing class II and class III products will experience a routine inspection once in a couple of years. The purpose is to ensure that everything is still running according to the prescribed protocols. These audits follow the dual-level of the Quality System Inspection Technique (QSIT).
Level 2 Baseline QSIT: This is very inclusive and covers almost all the quality systems, corrective and preventive actions (CAPA), design controls, management controls, and process controls. Pharma companies plan FDA inspections and prepare ahead based on previous events.
Level 1 Abbreviated QSIT: This is a brief inspection conducted when the company has undergone a Level 2 Baseline. A CAPA system integrated with a Quality Control and batch manufacturing system help with more meticulous preparation. Information well streamlined and available at your fingertips makes you safeguarded when a sudden inspection occurs.
The type and frequency of audits largely depend on what the auditors find. If there is any public health risk unveiled during a routine check, they would possibly conduct a follow-up or for-cause inspection.
3.Compliance Inspections:These inspections review actions undertaken by a manufacturer in response to a previous audit that resulted in a noteworthy 483 observations. FDA office issues Form 483 observations when an inspection indicates violations in good manufacturing practices (cGMP). FDA will schedule a compliance follow-up audit to check if the company has responded sufficiently and has corrected its previous violations. The FDA may record current violations and opt for future regulatory action if you fail to meet requirements. A company will be well aware of this audit if it already has 483 observations or any warning letter. It should most probably, identify the issues that the FDA had found and address them quickly. It all comes down to well-managed compliance/follow-up audits, by fixing violations and be prepared with additional information concerning inventory, batches, and quality control.
4.For-Cause Inspections:These audits are in-depth and don't happen as often as the other three. For cause audits to investigate a particular problem reported to the FDA, such as from manufacturers (recall of products, MIDR), consumers (complaints and feedback), and even employees. Companies should expect an audit in case of any health hazard or a severe product recall. There are no set guidelines here, and the type of inspection appears to be spontaneous. Irrespective of the QSIT, the auditors have a free hand to probe into other areas and aspects of the company besides the impending issue. The best way to manage this audit is to prepare for a regular FDA inspection considering you may not receive any advance notice. A real-time QMS, up-to-date management reviews, and internal investigations can adequately serve the purpose.
The Digital Connect
Almost every pharmaceutical company should comply with the FDA's Title 21 CFR Part 11 Guidelines, commonly known as the 'Part 11' regulation. All records fall under this regulation when digitally stored, signed and processed as part of its business. Information security, hence, becomes significant for Part 11. All authorized users in the company require appropriate security permissions. So, managing a company's protocols related to quality compliance can be very well achieved by digitization.
Unique usernames and passwords can provide access to user records. Moreover, this can also help monitor batch traceability with the right approvals in the warehouse. FDA audit will become straightforward when there is a record of every event in inventory with accurate time, date, and username. Electronic data further includes e-signatures, digital stamps, scans, etc. Under Part 11 compliance, these signatures must satisfy the primary & authentic cryptographic criteria abiding by a specific set of rules. The e-signatures and scans must retain an individual's identity and the integrity of the corresponding data.
Compliance, being a perpetual process, needs continual vigilance of electronic records and signatures. Accordingly, the right digital solution for Pharma can streamline quality workflows and minimize non-compliance.
Key Takeaways
Pharmaceutical industries are more vulnerable to production & quality failures if a company is not proactive to handle FDA audits.
An effective training program ensures that SOPs and regulations are transparent to employees. The intent is to get them to prepare for an FDA audit by keeping product and quality documentation up to date.
Digital transformation for Pharmaceutical will hugely assist in meeting compliance criteria. It can keep pace with the increasing surge of data, make you prepared for FDA audits, and prevent the undesired consequences.
Get a free assessment for your Pharmaceutical ERP implementation
About XcelPros
XcelPros is a Chicago-based company delivering transformation through technology. We offer business and technology solutions with deep industry experience in Chemical, Pharma, Life Sciences (including Medical Devices, Bio-Medical & Biotech), Insurance, Discrete Manufacturing, Process Manufacturing, Distribution and Food & Beverage.
XcelPros is a Microsoft Gold Partner, Direct Cloud Solutions Provider (CSP) and a Systems Integrator (SI) offering software licensing, implementation and consulting services for Microsoft Dynamics 365, CRM, Microsoft Dynamics AX, Business Intelligence & Analytics (Power BI), SharePoint, Office 365 and Azure (Cloud, IOT, Microsoft Flow amongst many others).
Our mission is to provide integrated technology solutions that amplify impact and empower our customer's businesses. We believe technology is the key enabler of exponential growth for us and our customers.
Contact XcelPros today to transform your business.
Call us toll-free – 1.855.411.0585 (or) visit https://xcelpros.com/