At a Glance
Quality control processes in the pharmaceutical industry are known for their rigorous and meticulous nature. It is of utmost importance to maintain the highest safety standards during drug manufacturing and managing pharmaceutical products.
With Industry 4.0, automation, Big Data, Machine Learning, Artificial Intelligence and systematic operations management, different Enterprise Resource Management (ERP) tools have become integral in the pharmaceutical quality control processes.
Advanced technology is undoubtedly becoming the backbone of futuristic quality assurance in the pharma and biotech industry.
The pharmaceutical industry stands at a pivotal conjunction point of technology and subject matter expertise. With times changing fast, the pharma sector's processes and operations evolve to enhance accuracy and reduce efforts and time consumption. However, quality control is a highly complex field where the slightest of errors can lead to severe health consequences. At pharmaceutical companies, scientists and top executives look at the latest technologies like complete digitization of operations, automation at manufacturing units, and Big Data and Machine Learning to maintain records.
The (pharmaceutical) industry increasingly wants more out of their data, and the focus in manufacturing data analysis is about quality, not quantity.– Joe Haugh in an article for the European Pharmaceutical Review
The ongoing Covid-19 pandemic and the ensuing search for a vaccine has shown the world that with the help of technology, it is possible to witness a never-seen-before feat of producing a potential vaccine candidate in mere months for a novel virus. Even the numerous clinical trials and related reporting are performed unprecedentedly with the latest tools. Manufacturing and supply of potential drugs to even the remotest parts of various countries are plausible with robust ERP models and streamlined supply chains.
Figure: 1Pain Points: Quality Control in the Pharmaceutical Industry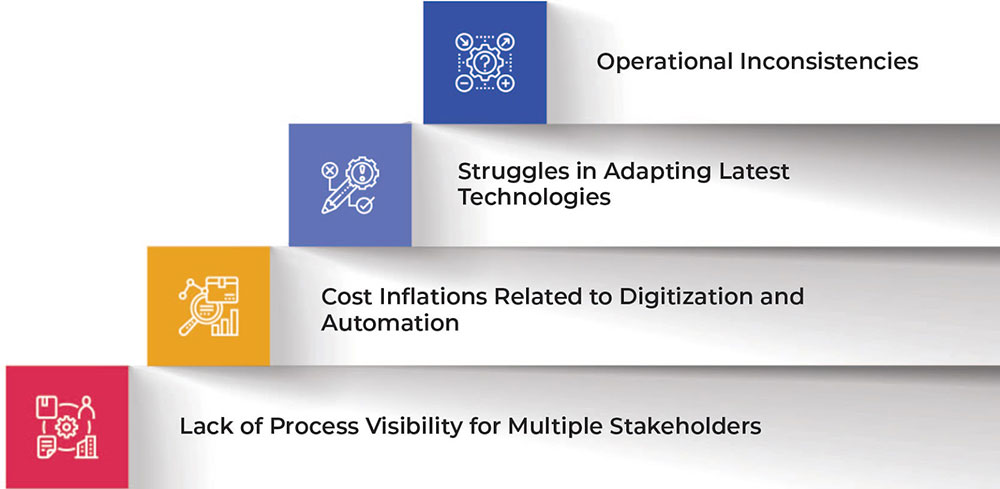 Let us take a deep dive into understanding the different ways technology helps reshape methods of quality control in the pharma sector.
01.

The Automation Effect: Mitigating Errors, Reducing Process Time and Saving Efforts

Businesses have discussed automation in pharmaceutical manufacturing for a long time, but this technological advancement is a boon in quality control. Pharmaceutical companies can leverage automation within quality assessment by reducing manual documentation efforts to cut margin errors and automatically carry out a quality check for batches or samples.
02.

A Robust ERP System: The Way Ahead for Comprehensive Quality Control Process Optimization

Quality control happens at various stages throughout a drug's lifecycle. This involves different stakeholders spread across multiple departments and most probably other locations. Conventional methods or legacy systems involved manual record maintenance, report generation and communication, leaving scope for errors. The traditional approach also was highly time-consuming. Companies can effectively address the issues with a robust ERP system. A system that provides a centralized database visible to all stakeholders in real-time helps drive better business decisions. The system should leave no scope for communication gaps and help align business objectives with workforce activities. Through report generation and data analysis within the ERP system, companies can make adjustments to operations and subsequently improve productivity.
03.

Internet of Things (IoT): Creating a Centralized Database for Enhanced Visibility in QC Labs

Most traditional quality control departments in pharmaceutical companies involve manual work where Quality Control and Quality Assurance work in tandem. However, the cumbersome nature of the job at hand- manual documentation, record maintenance for individual drug components, random testing records, call-back records, etc. creates caveats and increases error margin. IoT helps create a blueprint for various processes through device integration to feed in respective data and insights. This helps in maintaining transparency across all levels of quality control and pharmaceutical quality assurance processes.
04.

Digitized Change Control Management: Fast-tracking Quality Assessments in Case of Any Changes

Drug manufacturing is subject to changes throughout its lifecycle. In a conventional QC lab, these changes are recorded and communicated manually to various stakeholders, who then carry out respective tests and derive insights. These insights also drive changes required on a work in process batch. With the help of a digitized ERP system, changes can be communicated in a central system and all the stakeholders can evaluate real-time quality data. This expedites the quality assessment process and helps record maintenance quickly refer to relevant documents during quality inspections.
05.

Automated Data Analytics: Applying Machine Learning to Derive Insights

Quality control techniques in pharmaceuticals involve working with precise data. With machine learning and automated analytics, pharma companies can leverage the same amount of data to generate maximum insights.
What does Quality Control in Pharmaceutical Look like in Microsoft Dynamics 365 ERP?
The evolution of Dynamics 365 to a customized, purpose-based system makes it a comprehensive solution for a quality control pharmaceutical lab. It creates a central database, alerts all stakeholders of defects, helps in record maintenance and instant report generation. With Microsoft Dynamics 365 Finance and Operations, life sciences companies can manage in-coming/ in-process inspections for batch and continuous manufacturing. Track and trace functions enable pharma companies a base for better inventory management and can be especially helpful during drug call-backs, in case such a situation arises. On top of the Integrated quality management that includes SOP, CAPA, Deviation functions will help Pharmaceutical companies manage Quality compliance.
Key Takeaways
The pharmaceutical industry is cautiously yet steadily adapting to technological advancements. With advanced quality control, pharma companies can make great strides in assurance, uniformity and transparency.
Advanced technological applications are must-haves to address the pain points in pharmaceutical quality control.
The fast-paced, demanding world of drug manufacturing requires a fast-track yet highly stringent quality control mechanism, which is made possible through cutting-edge technologies and tools.
Start Your Digital Transformation Journey with Free Assessment
About XcelPros
XcelPros is a Chicago-based company delivering transformation through technology. We offer business and technology solutions with deep industry experience in Chemical, Pharma, Life Sciences (including Medical Devices, Bio-Medical & Biotech), Insurance, Discrete Manufacturing, Process Manufacturing, Distribution and Food & Beverage.
XcelPros is a Microsoft Gold Partner, Direct Cloud Solutions Provider (CSP) and a Systems Integrator (SI) offering software licensing, implementation and consulting services for Microsoft Dynamics 365, CRM, Microsoft Dynamics AX, Business Intelligence & Analytics (Power BI), SharePoint, Office 365 and Azure (Cloud, IOT, Microsoft Flow amongst many others).
Our mission is to provide integrated technology solutions that amplify impact and empower our customer's businesses. We believe technology is the key enabler of exponential growth for us and our customers.
Contact XcelPros today to transform your business.
Call us toll-free – 1.855.411.0585 (or) visit www.xcelpros.com