Procurement in the Pharmaceutical Industry
The procurement of raw materials in any Pharma manufacturing company is the source of inventory. An established method to improve visibility, track and trace product quality is a must, regardless of a manual, electronic, or a hybrid purchase to pay process. With the continued impact of COVID-19, approval criteria for Procurement in the pharmaceutical industry is scrutinized further. Businesses have become more cautious of raw material/services spend. Many companies are evaluating different suppliers who can fulfill their requirements at a lower cost, with attention to overall spend and quality requirements.
A robust supply chain management system is needed to
to manage on-hand inventory
build a more reliable end-to-end pharmaceutical supply chain
What are some considerations while revisiting purchasing functions?
This question throws light on companies' need to organize their buying process, include more visibility for senior management, and increased traceability of purchasing transactions for streamlining pharma procurement. A comprehensive supply chain management solution with low-code and customizable workflows to modernize the pharmaceutical procurement process will be a value add to improve procurement processes.
Figure 1Checklists to Turn Your Supply Chain More Efficient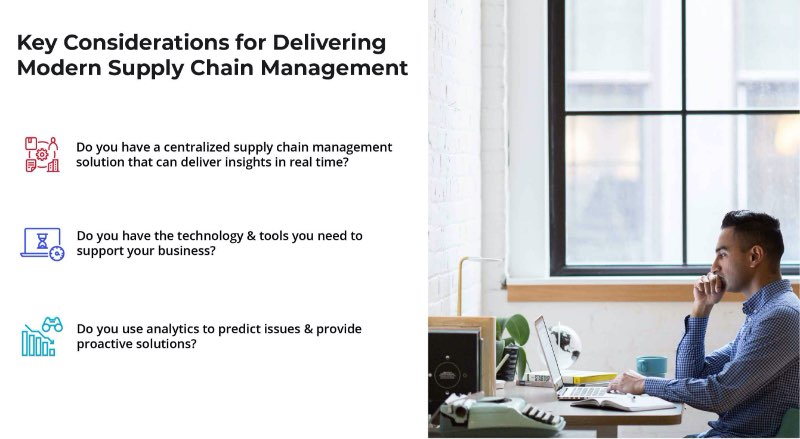 Businesses can benefit through a supply chain management system with advanced procurement processes to help accomplish the below objectives:
01.

Ensure Compliance:

Failure in quality compliance can result in hefty penalties and jeopardize customer trust. Especially when activities such as buying from approved vendors or segregation of duties between the buyer and invoicer are compromised. Your procurement management system should provide the ability to perform required audits with controls and enable only authorized users to perform their appropriate functions. Ultimately a pharmaceutical supply chain management system needs to remain 21 CFR part 11 compliant and cutting corners can be extremely risky for a pharma company.
02.

Support Strategic Vision:

Successful Life-Sciences companies focus on strategic planning and development to boost their bottom line. Any modern supply chain management system should help an organization achieve its strategic goals. Functions like a well-streamlined buying process are possible with spend analytics, derived from multiple dimensions of purchase transactions. Factors such as success rate of higher quality materials from approved suppliers, competitive pricing details, and gauging on-time in-full from preferred suppliers are a few key analytics that can help improve decision-making within the purchasing department and organization to meet their goals.
03.

Effective Supplier Relationship Management:

Long-lasting supplier relationships are crucial to procuring higher quality products at the lowest prices. A stronger relationship with a familiar supplier is far more effective than continually switching vendors to lower costs. Changing suppliers places an additional burden on the entire ecosystem as suppliers put a lot of effort into understanding your business needs over time, including feedback on the quality of raw materials purchased and the speed of shipments delivered, allowing them to make any necessary corrections to their processes. A supply chain management system that supports collaboration, in such cases, helps integrate suppliers as partners to add value to the overall supply chain process.

Figure 2Supplier Relationship Management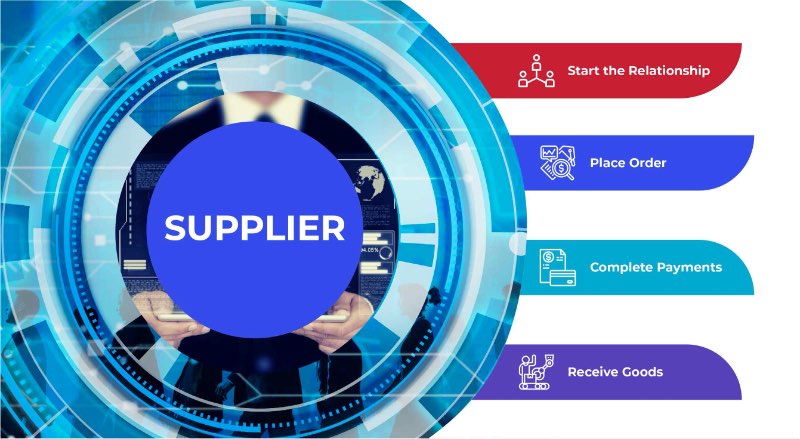 04.

Reduce Operational Costs:

Buyers or purchasing managers should be able to quickly analyze products offered by various suppliers spread across multiple geographical locations to secure the best pricing and reduce expenses.

The right kind of solution should eliminate wasteful spend – a critical factor in calculating the performance of any organization

A detailed view of supplier insights can help make decisions while identifying the best supplier for various materials. Identifying solutions to balance the cost and quality of purchased materials can help significantly reduce operational overhead without compromising on any KPIs of pharma procurement. Result-oriented companies in the Life sciences industry should have a well thought out method in place to manage procurement functions allowing them to maintain highly competitive prices without compromising the quality of a lot.

Figure 3 Better tools for modern supply chain management

Improving Organizational Efficiency is Your Key Metric:
Streamlining procurement in the supply chain, as well as identifying all possible failure points in your workflows, can significantly improve your organizational efficiency and increase the overall performance of the business. Every organization requires the ability to identify areas of their business that need improvement. Enhancing procurement in the supply chain directly affects the utilization of materials and labor appropriately, without compromising quality or cost. Optimizing resource time and inventory management together increases efficiency. A well-planned purchasing procedure will make it easy to show incremental results on crucial analytics, such as vendor performance/ spend analysis.
The Ideal System
Helps organizations streamline their pharma procurement process and get deep visibility into product inventory.
Easily and quickly Identify product/service needs and procure products, post receipts, invoices, and payments through included procurement and sourcing management modules.
Define purchasing policies and workflows to configure procurement processes that meet your business needs.
Manage product catalogs and procurement channels based on demand and vendor pricing and capabilities.
Define spending limits to constrain requisition spending and the purchasing workflow.
Protects the privacy of business and customers.
Procurement management 2.0 – Revamping technology
Any advancement in market dynamics has a direct impact on the buyer's journey. Because of this, the need for procurement department heads to play more strategic and tech-enabled roles increases significantly. Early life-sciences procurement departments had only two primary objectives, cost reduction, and risk mitigation. Now, digital technologies have revolutionized procurement in the supply chain in companies to expand focus into different areas like efficiency, accessibility, sustainability, and metrics for generating better purchasing decisions.
In the five years immediately following the
2008 global financial crisis (GFC), total return to shareholders (TRS) for companies with top-quartile procurement capabilities was 42 percent higher than for companies whose procurement operations were in the bottom quartile.
Source: Mckinsey
To stay on top, companies must move out of the traditional buyer mindset and deliver value to businesses by keeping their procurement teams collaborative with their suppliers, both internally, driving productivity and increasing savings, and externally to maintain better supplier relationships and reduce unnecessary supply chain risks.
As technology continues to advance, the new-age applications have added strengths within the pharmaceutical supply chain that can promote business functioning.
01.

Cloud-Based Platforms:

Moving Procurement to the cloud enables life-science organizations to operate with more agility, with benefits including enhanced collaboration, security, and data privacy. A growing number of traditional enterprises are already embracing the cloud capabilities to accelerate their businesses. Buyers can be a lot more agile at moving materials through the supply chain if they're managing procurement functions on the cloud. Embracing portals and well-defined workflows allows better engagement with suppliers, allowing the acceleration of tasks and to-dos like Requests for Quote (RFQs).

Gartner reports that the procurement industry has an anticipated growth of up to 3.2 billion dollars by the end of 2020, fueling the cloud-procurement sector.
02.

Data Analytics:

Adopting an analytically-driven approach might not be revolutionary, but it's certainly an evolution for pharma procurement management that we know today. The significant challenges that organizations face today are majorly related to a lack of visibility.

A survey by Deloitte Global CPO showed that analytics would play a significant part in shaping the procurement in the supply chain over the next two years. As per the study, the respondents use analytics in different ways.

45% for Management reporting

48%for process improvement

As procurement departments' spend-vs-quality goal is often to exceed expectations for their business, turning to integrated analytics can offer innovative solutions to enable efficient resolution of on-going buyer challenges. For best results, these teams need analytics as a core function in their decision-making process instead of treating it like a checklist submission to management. With the right reporting and analytics, Life-Sciences companies should have an easy preview of the quality of raw materials per supplier. Categorizing suppliers into the proper buckets based on supplier evaluation criteria or consuming specific lots based on customer potency/quality requirements helps make better purchasing decisions.
03.

Enhancing Collaboration:

The previous decade has seen a relatively large shift in procurement-based technology, with solutions moving from on-premise to completely collaborative cloud-platforms. The initial extension of legacy ERP software systems, which included purchasing modules in the 1990s, has now evolved to easily accessible systems with enhanced collaboration and procure-to-pay solutions.

As businesspeople started exploring the pharmaceutical Procurement process further, the focus is moving to niche functions like strategic sourcing, asset acquisition, and others. These standalone technological products did nothing to solve a significant challenge – collaboration. Integrated tools such as Microsoft Flow integrated with Microsoft Teams are providing seamless collaboration between buyers and suppliers.
04.

Mobility

The demand for mobile devices continues a steady rise, with the increasing population of millennials entering the workforce. Deloitte predicts that nearly 42% of companies invest in mobile phone technologies to support their procurement strategies, meaning mobile devices should now be considered an integral part of every procurement strategy going forward. With the help of the cloud and mobile-enabled services, companies can better manage their operations and analyze real-time functions and processes, leading to more proactive decision making.
The Role of Microsoft Dynamics 365 Supply Chain
Microsoft Dynamics 365 Supply Chain helps organizations streamline their procurement process and get deep visibility into product inventory –
Easily and quickly Identify product/service needs and procure products, post receipts, invoices, and payments through included procurement and sourcing management modules.
Define purchasing policies and workflows to configure procurement processes that meet your business needs.
Manage product catalogs and procurement channels based on demand and vendor pricing and capabilities.
Define spending limits to constrain requisition spending and the purchasing workflow.
Figure 4 Optimize your supply chain with Dynamics 365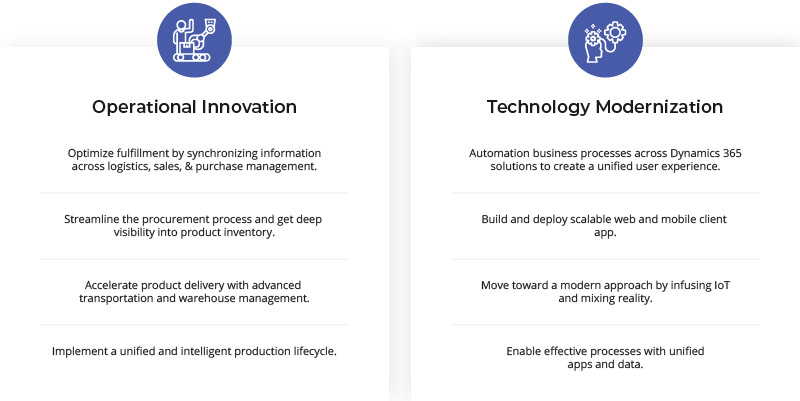 Key Takeaways
Modern Pharma & Life sciences companies have digitized their operations, and processes within the Procurement department, to help streamline the buying process.
Advanced digital approaches such as using Microsoft Dynamics 365 Supply Chain or Automating the pharmaceutical Procurement process can help accomplish the goal of well-stabilized procure-to-pay cycles.
A revamp in the Microsoft ecosystem's overall procurement process enables life-sciences companies to identify and eliminate inefficient, time-intensive aspects.
Take Our Free Assessment to Get Started With Digital Transformation
About XcelPros
XcelPros is a Chicago-based company and delivers transformation through technology. We offer business and technology solutions with deep industry experience in Chemical, Pharma, Life Sciences (including Medical Devices, Bio-Medical & Biotech), Insurance, Discrete Manufacturing, Process Manufacturing, Distribution and Food & Beverage.
XcelPros is a Microsoft Gold Partner, Direct Cloud Solutions Provider (CSP) and a Systems Integrator (SI) offering software licensing, implementation and consulting services for Microsoft Dynamics 365, CRM, Microsoft Dynamics AX, Business Intelligence & Analytics (Power BI), SharePoint, Office 365 and Azure (Cloud, IOT, Microsoft Flow amongst many others).
Our mission is to provide integrated technology solutions that amplify impact and empower our customer's businesses. We believe technology is the key enabler of exponential growth for us and our customers.
Contact XcelPros today to transform your business.
Call us toll-free – 1.855.411.0585 (or) visit www.xcelpros.com