At a Glance
The World Health Organization (WHO) has always emphasized providing the most effective drug that does not cause severe adverse effects.
An understanding of adverse effects and how to prevent them by assessing the right chemicals, quantities, and processes in drug/ vaccine manufacturing is a must.
There are several digital solutions and services available today designed to help the top scientists and decision-makers in the pharma companies in their pharmacovigilance journey.
Both now and after the Covid-19 pandemic, organizations worldwide will need to place significantly more focus on drug quality checks to avoid any mistakes caused by rushing the process as we return to 'normal'.
Today, terms like 'clinical trials,' 'safety assessment tests for vaccines,' and 'FDA approvals' are trending due to COVID 19. While these terms have always been a part of any pharma and biotech manufacturing companies' pharmacovigilance protocol, the pandemic at hand has brought them light. Most of us are curious about why it takes so long for a drug or vaccine to get approved for mass use, and rightfully so. The answer lies in the principles of pharmacovigilance.
The World Health Organization (WHO) defines pharmacovigilance as the science and activities relating to the detection, assessment, understanding, and prevention of adverse effects or any other drug-related problem.
The Primary Goals of Pharmacovigilance Guidelines
Assessing short term and long term adverse effects of a drug
Continuously collate and monitor the safety-related data of a particular drug
Perform risk v/s benefit assessment of the drug to make a guided decision on the administration of the drug
Two-way communication of the data about any Adverse Drug Reaction (ARD) between health professionals and clinical researchers to maintain transparency at all levels
Intervention by medical bodies/ pharma companies whenever required to prevent an unsafe drug's distribution and administration
Pharmaceutical companies require a team of professionals to carry on this constant quality check journey for their drugs. This team can consist of scientists, clinicians, biochemists, physicians, and medical writers. Their job is to collect, collate, analyze, and assess every drug's safety profile data. However, for a task that requires constant alertness and an unprecedented level of agility for accurate and quick response, manual applications are no longer enough. Pharmacovigilance plays an important role for pharma and biotech companies to use it as a solution. This solution should be smart enough to aid in centralized data collection, analysis, and run AI-based programs for drug composition analysis, safety profile mapping, and other crucial steps required for quality checks.
Pharmaceutical companies need to follow a wide range of processes to ensure their pharmacovigilance is up to standards. Any negligence or oversight can lead to severe fines, injuries, or even death.
According to a paper by Elizabeth Ndichu, MD, and Kevin Schulman, MD, The scope of the problem of poor-quality drugs transcends national borders because the manufacturing and supply chain of medical products thrives in an international market.
To comply with the quality standards and still meet the demands of fast-track drug development and clinical trials (especially in the times of a global pandemic), pharmaceutical and biotechnology firms need to strictly adhere to the process for end-to-end pharmacovigilance, which can include, but not limited to:
Carrying out detailed patient surveys for different age groups, geographies and of varying health conditions
Appointing pharmacovigilance consultants and experts (either in-house or third-party) to manage the intricacies of this journey competently
Making use of extensive databases to support technological platform such as Microsoft Dynamics 365 for the pharmaceutical industry to ensure error-free data maintenance and analysis along with report generation
Keeping all the stakeholders in loop at all times to avoid any oversight
Maintaining records of different pharmacovigilance solutions, especially products other than medicines such as cosmetic goods, nutritional supplements, and dietary products
Formulating a plan for intervention, mitigation, assessment, and resolution in the event of drug quality issues
Figure 1:Digital Ecosystem: Pharmacovigilance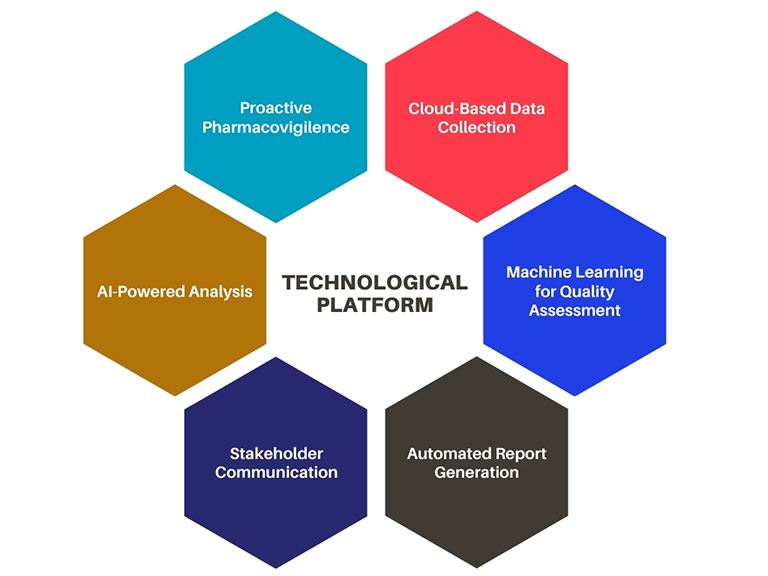 Pharmaceutical companies will also need to be nimble in their approach towards pharmacovigilance. Leveraging technology for streamlining safety procedures and quality checks is not a matter of convenience, but an absolute necessity.
Solutions like Microsoft Dynamics 365 Finance and Supply chain provide Quality Control functionality and a way to enter, track, and report quality test results. This makes it easy to leverage technology to streamline quality check operations.
Using these solutions can pave the way towards regulatory compliance, stringent component mapping, and monitoring of a drug's safety profile and reduce manual intervention for pharma personnel, allowing individual case safety reports (ICSRs) to be performed with ease. Microsoft Dynamics 365 is a comprehensive solution that forms an ecosystem for all stakeholders involved by mapping a drug's safety profile with intervening bodies.
Different departments can use these systems, clinical researchers, scientists, medical writers, physicians, medical representatives, state-owned drug governing bodies, and more, and are usually considered one of the best investments a company can make today.
Key Takeaways
Technologically-enhanced pharmacovigilance is the need of the hour for pharmaceutical companies.
Globally, the pharma sector is transforming, and this needs collation of medicinal data at a global level to map drug safety across geographies.
Forming a blueprint to follow the pharmacological journey is imperative for any pharma and biotech company.
About XcelPros
XcelPros is a Chicago-based company delivering transformation through technology. We offer business and technology solutions with deep industry experience in Chemical, Pharma, Life Sciences (including Medical Devices, Bio-Medical & Biotech), Insurance, Discrete Manufacturing, Process Manufacturing, Distribution and Food & Beverage.
XcelPros is a Microsoft Gold Partner, Direct Cloud Solutions Provider (CSP) and a Systems Integrator (SI) offering software licensing, implementation and consulting services for Microsoft Dynamics 365, CRM, Microsoft Dynamics AX, Business Intelligence & Analytics (Power BI), SharePoint, Office 365 and Azure (Cloud, IOT, Microsoft Flow amongst many others).
Our mission is to provide integrated technology solutions that amplify impact and empower our customer's businesses. We believe technology is the key enabler of exponential growth for us and our customers.
Contact XcelPros today to transform your business.
Call us toll-free – 1.855.411.0585 (or) visit www.xcelpros.com