At a Glance
Today, serialization has moved past the point of being a nice-to-have option to becoming a necessity.
Pharmaceutical companies are tying up with CDMOs to develop sustainable serialization solutions for maintaining drug quality and avoiding supply chain glitches.
CDMOs face various challenges when it comes to implementing a robust serialization mechanism to allow for better distribution.
The advancement of Industry 4.0 and digitization has introduced another level of complexity when it comes to pharmaceutical serialization track and trace in the supply chain. The industry is constantly looking to improve its tracking systems while devising new ways to mitigate genuine concerns like counterfeiting, theft, packaging and storage mishaps, and drug adulterations. Pharmaceutical companies have long been outsourcing to CDMOs for the purpose of better manufacturing practices, and serialization of the supply chain is an imperative part of the process.
30-40%of all medicines circulated in the developing countries are counterfeit.
5-7%of all medicines circulated in the developed countries are falsified.
These statistics pose a serious threat to the public's health and challenges the authenticity of the pharmaceutical industry on a global scale. CDMOs worldwide face challenges either when implementing a robust pharma serialization solution or attempting to streamline manufacturing and distribution processes while understanding the unique serialization requirements of their clients.
Below are some of the challenges a CDMO faces while implementing pharmaceutical serialization track and trace and some interesting ways they can be addressed.
Serialization Challenges Faced by CDMO
Seamless Serialization for Multiple Clients


CDMOs typically prefer to operate at a global level, providing comprehensive drug manufacturing and supply services to various pharmaceutical companies. Catering to a diverse base of clients has its own unique set of challenges, especially when it comes to the serialization of individual drugs. CDMOs need to equip themselves with the right technology to be able to modify their production or manufacturing lines in order to seamlessly serialize multiple drugs from or for different clients all at the same time.
Compliance Across Various Regions


Within the United States of America, every state has different laws and rules in place, and across these states, many US-based pharmaceutical companies export their drugs to other countries. This can require a powerful pharma serialization mechanism in order to remain in compliance with varying global and local standards, rules, and regulations. CDMOs are expected to take part in ownership and responsibility when it comes to the quality of drugs and compliance with various government rules. This process can be a challenging area for CDMOs, especially true when you consider the vast databases and maintenance required to remain compliant.
FIGURE 1: Key Serialization Challenges Faced by CDMOs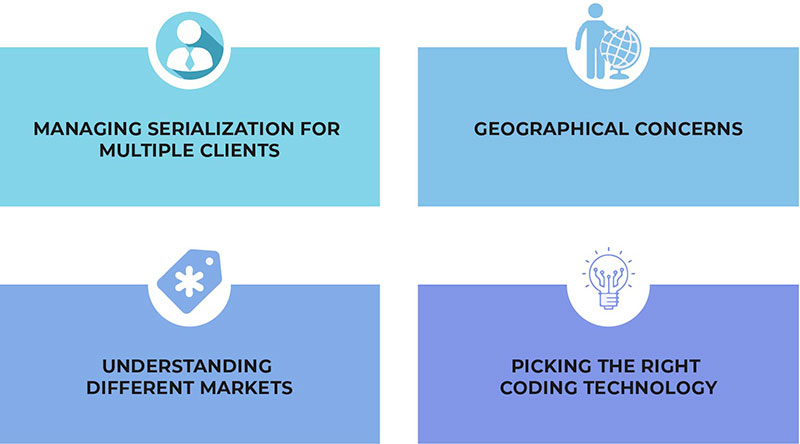 Picking the Right Labelling Solution


When it comes to the serialization of drugs, there should never be a one-size-fits-all approach to labeling solutions. From label materials to the hardware used including, Thermal Inkjet Technology, Thermal Transfer Technology, Laser Printers, Digital Printers, etc., CDMOs have a lot of decisions to make. Label layout, orientation, barcode design, compliance adherence, and validation, and these labels need to be manufactured in a stipulated amount of time for maintaining the continuity of the drug's supply chain. This all comes down to making the right choice when it comes to coding and labeling technology.
Understanding Market Requirements


While larger pharmaceutical manufacturing companies may have an in-house team of analytics and marketing specialists; mid-size and virtual companies often still rely on CDMOs for market intelligence.When it comes to serializing drugs of their clients, CDMOs need to understand the different markets and their requirements. Based on market analysis, CDMOs make a decision as to how many drugs need to be serialized for a particular market, including whether they're choosing to use randomized or centralized serializations.
Different ways CDMOs can overcome Pharma Serialization Challenges
As every case is different, it's unknown which factors may be bigger issues than others. To be able to address these challenges as they come, CDMOs should evaluate the following points
In order to set a robust pharma serialization system in place, CDMOs should equip their task force with the technical knowledge and details of serialization hardware and software beforehand.
Making use of advanced technological applications like Big Data, Cloud, Internet of Things (IoT), advanced analytics, or enterprise-level software, like Microsoft's Dynamics 365 line will help CDMOs in maintaining and monitoring their database for various clients. They should have no problems managing multiple production lines while serializing drugs for different clients.
Investing in the right partner, with experts that understand and cater to diverse global and local pharmaceutical rules and regulations will prove hugely beneficial for CDMOs in their pharmaceutical serialization track & trace journey.
As a vendor, it's important for CDMOs to maintain two-way communication with all parties involved, including the pharmaceutical companies, dealers, wholesalers, packagers, transporters, etc. This will help them maintain transparency at every level of serialization and aid in avoiding recalls or stock-outs.
CDMOs can benefit greatly by developing flexible templates for their serialization solutions. These templates would serve as a blueprint for any pharmaceutical client, while the flexibility in the template would allow a CDMO to make tweaks in the process to meet the client's requirements. This saves time, effort, and cost.
Final Thoughts
While drug serialization can create a number of different challenges for CDMOs, it's also an opportunity for an organization to display technological dominance. Regardless, with the right team and solution in place, CDMOs should have no problems managing any challenge they come against.
Microsoft's Dynamics 365 suite of solutions offers Pharmaceutical companies a powerful solution, and a means to track serialization along with handling customer onboarding, lot traceability, and toll manufacturing processes, from start to finish.
As pharmaceutical companies are required to strictly follow serialization regulations to combat counterfeiting, theft, and more, these companies are partnering with CDMOs for better serialization and to establish a more efficient supply chain.
Serialization requirements for pharmaceuticals pose many technical and skill-based challenges and CDMOs worldwide are constantly looking for more efficient ways to handle these challenges, investing in the right partner can make a big difference.
With the help of cutting-edge applications, a skilled team, and a systematic approach towards serialization, CDMOs can establish themselves as leading end-to-end manufacturing and distribution partners for leading pharmaceutical companies.
Get Free Consultation For all Your Business Needs
About XcelPros
XcelPros is a Chicago-based company delivering transformation through technology. We offer business and technology solutions with deep industry experience in Chemical, Pharma, Life Sciences (including Medical Devices, Bio-Medical & Biotech), Insurance, Discrete Manufacturing, Process Manufacturing, Distribution and Food & Beverage.
XcelPros is a Microsoft Gold Partner, Direct Cloud Solutions Provider (CSP) and a Systems Integrator (SI) offering software licensing, implementation and consulting services for Microsoft Dynamics 365, CRM, Microsoft Dynamics AX, Business Intelligence & Analytics (Power BI), SharePoint, Office 365 and Azure (Cloud, IOT, Microsoft Flow amongst many others).
Our mission is to provide integrated technology solutions that amplify impact and empower our customer's businesses. We believe technology is the key enabler of exponential growth for us and our customers.
Contact XcelPros today to transform your business.
Call us toll-free – 1.855.411.0585 (or) visit www.xcelpros.com